I hadn't been in to volunteer in the classroom this year, yet. I'm not sure how that happened, but it became immediately apparent when I walked in and was struck—as I always am—but how HUNGRY so many of these kids are for attention and to understand where I've come from. Are you Monkey's mom? Really? Does he have a dad, too? Wait, he has TWO DADS? And a mom? And his stepdad HELPED? On purpose? Did you bake this cake yourself? And brought it in for US? And you brought candy, too? Can we eat some? Really?
One little boy told me that the cake was "gonna be so tight" after they finished decorating it. I agreed, and hoped that means something good. It seemed like it probably did.
I slipped extra fruit roll-ups to the kids who looked like they'd died and gone to heaven when I told them they could have one. And I whispered to Monkey that he could have a treat at home, later, if he didn't fuss over it. He didn't.
When I left the house, I had this: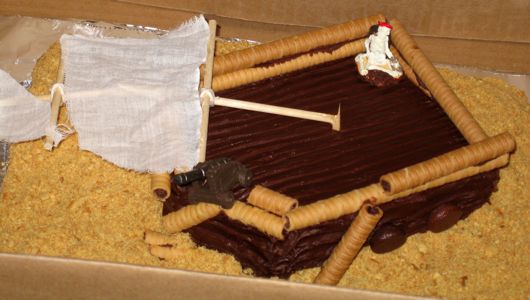 (Notice the skeleton in the corner, the last remaining crew member. Arrrrrrr!)
I got all set up in the classroom, and then the teacher started sending the kids back to the decorating table in groups of four.
"Oh, no!" wailed one little boy, upon beholding the cake. "It's BROKEN!" He was upset about the mast. I showed him how Otto had broken it on purpose—this was to be an underwater shipwreck, after all—and how he'd even dabbed some hot glue on the break to make sure it didn't break all the way. He was very relieved. "Can I put some sharks on top of the ship?" he asked, then. When I said of course he could, all was right with the world.
"Are we going to get to eat it?" asked one little girl. I reminder her that the cake goes to auction, and everyone should tell their parents to bid on the cake so that the class could have it back. Monkey piped up that I should bid on the cake, and I chuckled, thinking about the money I'd already spent on candy and frosting and everything else. And then another little girl said she was going to bid, because she had a whole dollar at home.
After everyone had had a turn adorning our sunken pirate ship, I cleaned up the table and packed up my things. And then I asked the kids to gather round and let me take a picture of all of them with the cake. While they were assembling I thanked them for doing such a great job decorating, and told them I couldn't have done it without each and every last one of them. There were several shy smiles I caught, then, between the hoots and hollering of asking when they could eat it.
When I turned the cake in to the auction, it looked like this: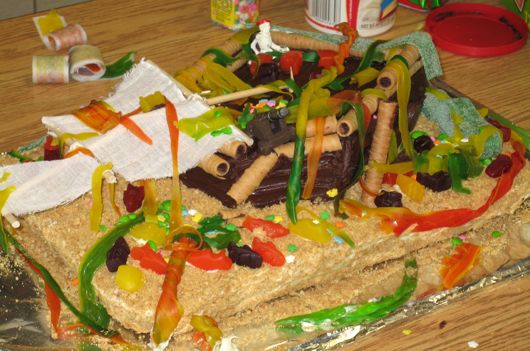 (It's been underwater a really long time, y'know.)
I think it's the most awesome cake I've ever seen.
Happy Love Thursday, mateys.