Goodness, you're all awfully good at this complimenting thing. Many of you get an A+ in suck-up-itude, and so many nice things were said it made me feel like a complete impostor. Here I thought I was inviting y'all to say something goofy, and then people started busting out with actual, KIND, LOVELY things to say.
STOP IT.
Needless to say, if forced to pick just one glowing compliment from amongst the 200+ as the book winner, I would need to go to some sort of random method or yank out all my hair, trying to figure out who was the NICEST and BESTEST and SWEETEST TO SMALL ANIMALS. So instead of doing that, let me say right up front that EVERYONE who left a sweet comment will be getting a pink pony in the mail as a runner-up prize.
Except, um, I could only afford one pony, so you'll all have to split her. Check your mailbox for a hunk of pony meat!
(Kind of wishing you hadn't been so nice to me, now, arentcha?)
So! As for the winner of the actual author signed copy of Kelly Corrigan's The Middle Place, I couldn't pick just one, so I'm going to give out two books. Just because. But it was SO SO SO SO hard to pick that I'm ALSO going to highlight two other commenters. Honorable mentions, if you will.
So, most of you get a hunk of pony meat. (Yay!) Also please note the excellence of premenopaws, who wrote me an entire poem, as well as the lovely Karen who noted (erroneously) that my feet are completely odorless. That's some serious complimenting, people.
However, our winners of signed books are the following:
Hollygee, who said, "Specific, with admiration: Mir, you are shameless." (In the spirit of shamelessness, I accept this award— wait. Um. Well, anyway, yay!)
And Headless Mom, who said, "You are my something shiny!" (That made me feel all warm and fuzzy until I got distracted and wandered off.)
Check your email, ladies! And thanks to everyone for playing.
* * * * *
So, a funny thing happened with that post. So many of you said such kind things about me, my parenting, my writing, and the whole thing made me HORRIBLY UNCOMFORTABLE, which I hadn't anticipated at all, because sometimes I have all the self-awareness of your average dinner fork. I love this space; I love what it's added to my life; and while I love the positive feedback (yesterday and any day, really), I found myself wanting to say, "No, no, you've got it all wrong!" Particularly when it came to any comments about my parenting.
I love my family and I'm trying to do my best by them every day, of course. But I yell too loudly and too often; I say "no" more than I should; I do not possess the patience I wish I did. I love that you all have such confidence in me… and someday I hope to share it. Someday.
Chickadee made me this little figurine a couple of years ago in school. She has a thing for elephants, and so I wasn't surprised when she presented me with this. "It's a mama elephant and her baby elephant," she told me, "and the mama is holding the baby on her lap and keeping her safe."
The pair sits on my dresser, and I look at it every morning and marvel at the attention to detail my child was able to incorporate, but more than that, the moment she chose to capture.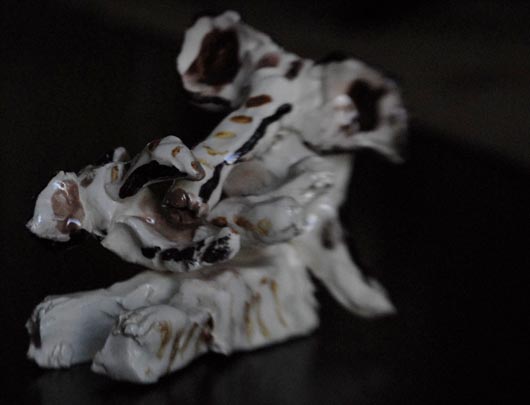 Elephants are big and slow and probably clumsy. They step on things they oughtn't and who knows if they can see everything they should, from way up there, and around their lumbering bodies. I see myself more as the flailing thunderfoot missing what needs a gentle touch more often than not, but sometimes—sometimes!—I grasp a grace beyond what I should be capable of.
For those moments, when I manage to get it right, I'm grateful. They won't all be cast in clay, but hopefully they'll last.
Happy Love Thursday, everyone. Thank you for your kindness.