This winter has been pretty bleak, so far.
It's the usual stuff as well as some genuinely difficult circumstances—most staunchly filed under Matters Largely UnbloggableTM—and while the bottom line is that we are all fine, I respectfully submit that T.S. Eliot got it all wrong. April is not the cruelest month, January is. Hands down.
One of the things I'm discovering, finally, after coming-up-on-two-years worth of remarriage, is that blending a family is not a linear process. It's more like the Electric Slide gone haywire, with steps forward and back and then—surprise!—sideways at an unpredictable pace. If you're not in tip-top shape it will sap you of your energy and your belief in a happy ending, sometimes. And when things are difficult and everyone's got a cough that just won't go away, nobody feels much like dancing.
So. January. Not my favorite month.
It seems like over the last few weeks we've either been squabbling or going to bed at 9:00 (oh, Nyquil, how I love your unconscious embrace) or just… trying to stay afloat. When Otto and I have managed the time to sit down and really talk, it's been about bills or cars or the kids. Mostly.
And then we had one of those fights. You know the kind—the sort where you're so angry that you can't see, the sort that scares you into sleeplessness, the worst case scenarios spinning out in your imagination, unbidden.
As much as I hate those sorts of come-to-Jesus relationship flare-ups, there's nothing quite like the clarity that comes in the following reconciliation, when you both remember how to communicate and what you really need to say to each other. It's a painful way to get back to what matters, but it's effective.
This week I've been wracked with doubt about what I'm doing and where I'm going, and Otto has quietly maneuvered around my sharp edges and cleared a path a few steps ahead of my flailing. I greeted him this morning with an aggravated recounting of one child's obnoxiousness and my indignation therein, and he nodded and listened and steered clear of the storm until it blew over. Before he took the kids to school he finished slicing the vegetables he'd started working on last night, and threw his creation into the crock pot and turned it on. "Dinner's cooking!" he announced, before heading out the door with his customary kiss and "I love you."
As I crossed back through the kitchen on my way to begin working in the now-quiet house, I caught a glimpse of color through the window. Further investigation revealed that some tree on the outside of the back fence had erupted in red—who knows how long ago, even—and the branches were now splaying out into a fiery crown above and even poking through the slats below and demanding to be noticed.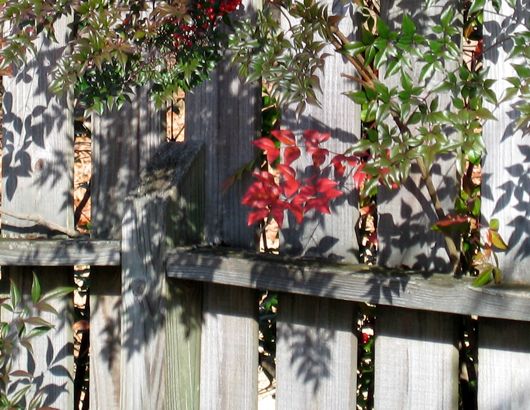 Sometimes I get so mired in everything else, I'm not very observant about what's right in front of me. And sometimes it's as easy to see as a profusion of foliage towering above, and sometimes it's more like that one branch working its way in, further down.
(Dear Otto: I noticed. I notice. Thank you.)
Happy Love Thursday, everyone. I hope today you notice what you've been overlooking.