Dear Monkey,
I have to tell you something. I have to tell you that I'm sorry; the timing of your birthday is less than ideal, for a number of reasons. Everyone is still away on vacation or just getting back and recovering. You often get gypped out of gifts by those who claim your Christmas present is also for your birthday. Some people just plain forget, in the hustle and bustle of the holiday season.
And then there's me. All I want, come January, is to resume Life As Normal. The holidays have worn me out and I am craving a return to the mundane. I probably don't greet the task of whipping up a cake… and then cupcakes for school… and then talking about party planning… with as much excitement as I should. It's not that I'm not thrilled to celebrate you, it's just that I'm tired.
But yesterday, none of that mattered.
You bounded into my room first thing in the morning and dove under the covers to hug me. "I'm nine I'm nine I'm nine I'M NINE!" you declared, wrapping your arms and legs around mine, shocking me with your gangliness, as if you'd just grown a foot overnight. "Go me, it's my birthday, go me, it's my birthday!" you concluded with a little dance and much giggling. We snuggled and you submitted to my slathering of kisses.
Once we got up and headed to the kitchen, I opened the fridge to check on your cake. It didn't need checking, but it meant I was able to pick up a detached bit of chilled glaze and hand it to you for tasting. You'd said, "Chocolate!" when you saw it, but as the morsel melted in your mouth your eyes lit up and you nearly swooned. "MINT chocolate!" you corrected yourself with glee.
That's right; when you turn nine, you get a chocolate mint truffle cake even if it means I have to send Otto back to the store (twice) for things I forgot. The good news is that the leftover buttermilk means homemade pancakes in the morning. The bad news is that I think I gained fifty pounds putting that baby together. I mean, there's rich, and then there's that cake.
It was then time for the festivities to begin. Otto made the pancakes.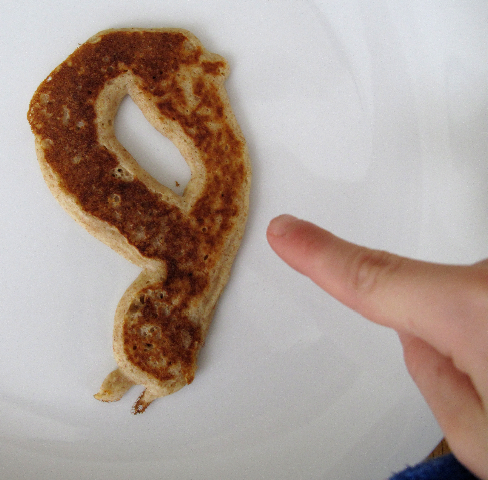 You got a special one shaped like a 9. Of course. (You also got the first attempt at a 9, which led to five minutes of HILARIOUS jokes about you being 99, or 69, or twins!)
After pancakes, we did presents. And even though it was just Christmas, even though you'd just gotten mountains of presents just a week or so ago, you were genuinely delighted and pleased with every item. You thanked your sister for the game, and you gasped in delight over the long-awaited Lego Star Wars Wii disc, and then again over the tool box and real tools Otto had picked out for you. You agreed when I asked you to wait until later to put together your new water-powered model car, and then twenty minutes later you announced, "I'm done, I need some distilled water!" as if hey, you'd waited long enough, already.
You checked out all of your tools and then submitted to a haircut ("Just a trim! To get rid of the split ends!") and then passed a blissful afternoon playing your new Star Wars game. "Look! I cut off his LEG!" (Good clean dismemberment fun—it's the American way.)
You began apologizing to your sister before dinner, assuring her that you hadn't picked fish to upset her. And I reminded no one in particular that ON YOUR BIRTHDAY you get to eat what YOU want, and those of us who wish to eat something different are certainly welcome to do so and NOT COMPLAIN, and so it was. We all had salad and rice and then those of us who are carnivores had pesto-crusted salmon and those of us who are not had some lentils. And by the way, what sort of 9-year-old requests pesto-crusted salmon for dinner? Are you sure you're not turning 59? Perhaps Omega-3s are the source of your great strength. (I mean, it's that or your hair. It could go either way.)
After dinner we had cake, and it's so rich that I gave out just small slices. You wolfed yours down and asked if you could have more—your lips were chocolate-rimmed and your braces packed with frosting—and I said "Of course," and cut you a second slice. You only turn nine once, you know.
Last night as I tucked you in, I asked if you'd had a good birthday. "Yes! I AM NINE!" you answered, throwing your arms around my neck. "And I had a VERY GOOD birthday! I think it was my best ever. And maybe next year when I turn TEN I'll have an EVEN BETTER one!" We said our goodnights and I turned out the light and left you to sleep.
If it's okay with you, I'm not going to think about next year when you turn ten, just yet. I still can't believe you're not a fat, wriggly baby anymore. You are nine, and for nine years you've been teaching me that joy is a lot less complicated than I tend to think it is. Because it's not that your life is so much easier or better than anyone else's, just that you're so much better at enjoying it. Which is a mighty power, indeed.
Thanks for sharing it with me. Funny, but I can't seem to remember what life was like nine years ago.
Love,
Mama