We picked up the kids bright and early yesterday morning, and as we drove hundreds of miles through the snow with them quietly playing in the back seat, I felt better. I don't do well with them away for more than a couple of days. I miss them.
After a couple of hours, Monkey stretched and let out an enormous yawn. "You okay, buddy?" I asked, catching him mid-flex as his chest strained against the seat belt. I reached back and rubbed his leg, as I said it.
"Look at my BIG BOOBIES!" he responded, finished stretching but still jutting his chest out, and laughing.
"You don't HAVE boobies," Chickadee said, not even bothering to look up from her book.
I turned to Otto, who was rolling his eyes, and grinned. "Isn't it GREAT to have the kids back?"
So we drove the day away, stopping to visit with some friends for lunch, and finally arriving at my dad and stepmom's by dinnertime. The children ran around in circles and the cat tried to get into the house and the dog licked everyone and then we sat down to enough food for approximately forty people.
Later, we toasted the New Year at the stroke of midnight… in Rio. Which happened to be 10:00 here. Because we are old, and tired. And this trip has taken a lot out of us.
This morning my stepmom made me a cappuccino and even shook some cocoa on top of the frothy milk, which made me want to stay here forever and ever because it was so fancy. We sat there and sipped our coffee and talked about various teas we've been drinking lately, and suddenly my dad said he'd picked something up for me and had to go find it. He left the room and came back with a single tea bag, which he placed in front of me with great ceremony.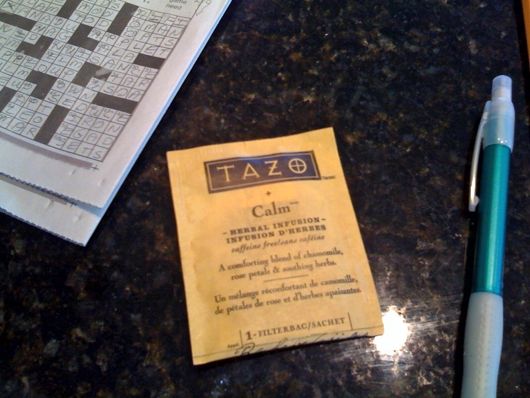 I looked at it.
"I think he's trying to tell me something," I said to my stepmom.
He claims he grabbed it for me because he knows I like herbal tea, but I dunno. My family's not much for subtlety, you may have noticed.
I don't make New Year's resolutions. I'm perfectly capable of failing to rise to my potential every single day of the year, already. But if I was going to try to set a goal for the next year, greater calmness wouldn't be a bad place to start.
Also, everything's better with a nice hot cup of tea. (Next to the wood stove at my parents' house? All the better.)
Happy New Year and happy Love Thursday, everyone. May 2009 bring you exactly what you need.