This past weekend, we put up the Christmas tree.
Otto brought the necessary boxes and bundles down from the attic, and he set up the tree while I wandered around the house with a fistful of candle lamps in one hand and some scotch tape in the other, and extension cords draped around my neck. The stocking holders went onto the mantel. The various decorations were put in their designated positions. And by the time the kids arrived home on Sunday night, it was all done.
Except for the ornaments, of course. We waited for them to trim the tree.
Now, I was raised Jewish and didn't start celebrating Christmas until after I converted to Christianity in college. This means that I don't have a collection of ornaments dating back to my childhood, of course. But the kids get at least one ornament every year.
Santa always tucks an ornament into their stockings. He tries very hard to make it something that makes sense for the given year—so the year Monkey was train-crazy he got a Thomas the Tank Engine one and when Chickadee was obsessed with Veggie Tales she got Bob and Larry. Some years their ornaments "match," like when they both got Willow Tree angels (a boy with a puppy for him, a girl with a book for her). Last year, they celebrated their first Georgia Christmas with bulldog ornaments. And then, of course, there are extras; when I took Chickie to The Nutcracker the first time, she got an ornament from that, for example.
We had several friends with whom we did ornament exchanges back in New England, too. To circumvent the whole "too many toys" thing, each year we'd have the kids swap ornaments, instead. And of course I have some ornaments, and Otto has some ornaments, and there are the ornaments the kids made over the years, and—my favorite—the tiny little photo frame ornaments showing the children at various ages and stages.
What this all means is that trimming the tree is an hour or two strolling down memory lane.
"Monkey, look how short your hair was!"
"I remember getting this one…."
"Wait, is this one yours or mine?"
The most sentimental member of our clan is Chickadee, without a doubt. Two years ago she hung an icicle ornament on our tree too close to the edge of a branch, and it slipped off and shattered on the hardwood floor. She'd cried for an hour. That was the most special and wondrous icicle ornament in the history of icicle ornaments, given to her by a particular family friend ESPECIALLY FOR HER and there would never be its equal, lo unto the end of time.
Needless to say, when we trimmed the tree LAST year without anything breaking, I heaved a sigh of relief.
But this year, this Sunday, as we talked and laughed and decorated the tree together, Chickadee was skipping around and holding a blown-glass snowman by the clip at the top…
… and somehow the spindly wire tension holder that sits down inside the glass slipped out. I watched in agonizing slow-motion as the snowman sailed across the room…
… and shattered on the wood.
"Oh NOOOOOOOOOO—" she began to wail, and I cut her off as both children made to dart for the still-grinning snowman head, lying face up and jaggedy-necked in the wreckage.
"STOP!" I bellowed. "NOBODY MOVE!" We were all barefoot. A broken ornament I can handle; a trip to the ER to have glass dug out of someone's foot, somewhat less so. "Broken glass!" I said, lowering my voice and taking in the tears in front of me. "Just… let me and Otto clean it up, and no one walk over there, okay?"
Otto handled most of the glass removal, while I sat on the couch with a sobbing Chickadee.
"It was very special," she gulped between tears, "And I got it from E'sMom, and I'll probably never even see her again, and there will never ever be another one and I've lost the only thing she gave meeeeeeee…." Oh, you have never heard such pitiful wailing. Thankfully, I was able to point out not only several other gifts from E'sMom that she still has, but I was even able to find another ornament from E'sMom she'd already hung on the tree. But I understood her sorrow—E'sMom had been one of my closest friends in our old home, and our parting did not go well. I haven't spoken to her since before we moved. This wasn't just about the ornament, it was about our old life, and things that slip away.
I'd finally gotten her calmed down—and Otto had removed all traces of the carnage—when I realized that Monkey had disappeared. I continued comforting Chickadee, and a minute later there was a flash of small boy in flight as he careened off the staircase and went running full-tilt into my office.
Otto and I exchanged A Look, and then he went to investigate.
A minute later, they emerged.
"Don't cry, Chickie," Monkey said softly, patting her hair. "It's okay. Look, I made you another one."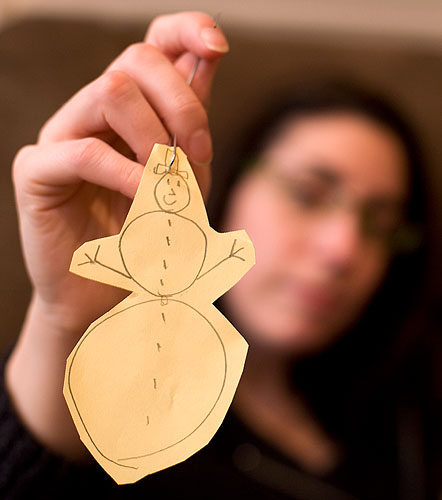 (photo courtesy of Otto)
She looked up, and I waited for the inevitable "that's ugly" or "don't be stupid" or "that's just a piece of paper." I may have even held my breath.
"I even put a hanger in it for you!" he continued, hopefully. "Well, Otto did. But it's ready to go on the tree!"
Chickadee smiled. Not a giant smile, mind you, but a smile nonetheless. "Thank you," she said to her brother. He beamed.
I held it out to Otto, and he took the picture. And then Chickadee hung her new snowman on the tree. It's right in the front, perfectly centered, so that you can't possibly miss it.
Happy Love Thursday, everyone. I hope this holiday season brings you a bounty of memories—both new and old—to cherish.