I don't know when I got them, exactly; it seems to me that it was probably when I was pregnant with Chickadee or when she was very small. Something about how babies would find wind chimes soothing, I think. Back then I was all about Doing It Right and I was very busy strictly adhering to the Organic Twigs and Berries diet so that I could have the Perfect Healthy Baby. (Other things I was busy doing: Buying the Perfect Stroller, picking out the Perfect Crib Bedding, and driving myself Perfectly Batshit Insane worrying that I Would Somehow Mess Up The Perfect Baby.)
[Digression: My Perfect Baby is now an Perfectly Delightful, If Somewhat Premenstrual Tween. That Karma, she is a charming serving wench when it comes to thick wedges of humble pie, oh yes she is.]
Nevertheless: We got the set of wind chimes I deemed the most melodious*, after an hour spent poking various ones at the Nature Store.
Those wind chimes hung outside the house we brought Chickadee home to, and they were the first non-essential item I took out at the house we later moved to when Chickadee was a toddler and Monkey was just a baby. There, they hung by the side door, which was at the opposite end of the house from both the family room and our bedrooms, so I couldn't often actually hear them.
One of the first things I did here, when we moved into this house, was hang up the wind chimes out on the porch. They're much more centrally located, now—they're right outside the kitchen table, but also easily heard from both our bedroom and office.
The days are getting shorter, and the air is getting colder (yes, even here in Georgia). Lately the wind's been whipping up and I've been padding around the house in my slippers, bemoaning the draftiness. The benefit of all of that, though, is that the wind chimes seem to be singing endlessly. It's the backdrop of everything; they lull me to sleep at night and underscore breakfast and keep me company as I chop up veggies and throw them in the crockpot for yet another batch of soup. They even provide a counterpoint as I sit here typing in the office.
They're not so much to look at, anymore, but they're an integral part of how I know I'm home.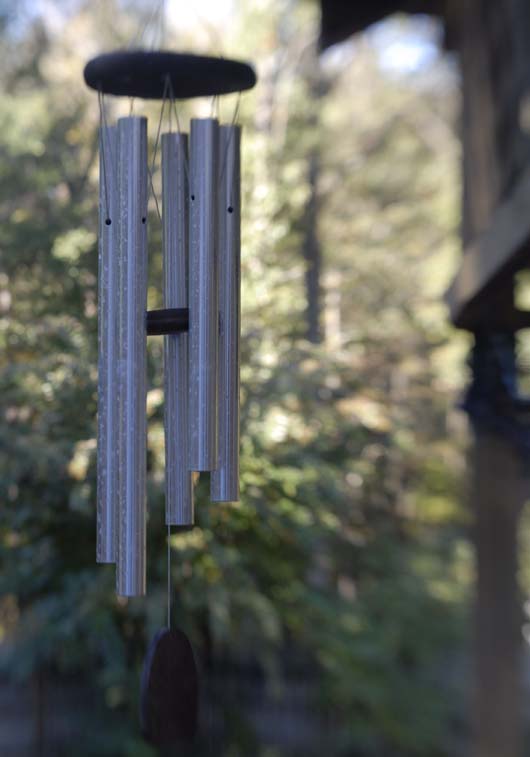 Happy Love Thursday, everyone. I hope you're home; wherever you happen to be, and whatever that sounds like for you.
*This is what I have.