Just a quickie, today, as I'm up to my eyeballs in work and we've also got house guests.
My dad and stepmom pulled up last night about fifteen minutes before the kids' bedtime, which of course meant there was much running around and waving of arms and hugs and kisses and hollering—and the kids were pretty excited, too. We have all sorts of fun things planned, and these visits always make me realize how time is passing, without my noticing, as I watch my parents marvel over how tall the kids have grown and how grown-up they're looking.
This morning I was up and out with the kids, volunteering at school, finishing up, and back home before my dad even got up. Which is fine—they're on vacation, and it makes me feel less guilty about having to go do things (and work), anyway. Today we'll laze about and conserve out strength (heh) until the kids get home from school, and then we'll run around with them for a while.
If you'd asked me before they got here what my favorite part of these visits is, I would've responded without hesitation that it's watching my parents interact with my kids. There's something about watching your parent be a grandparent that's unlike anything else; plus, I do love watching the kids' eyes bug out when I remind them that Hey, that's MY Daddy, and let me tell you about something dumb he did when I was a kid!
This morning, though, I realized that there's another thing I absolutely love on these trips: Having coffee and grown-up chat in the morning. My father is utterly incapable of getting his own coffee—which is amusing in its own right—and so my stepmom or I will "work the coffeemaker" for him and pour him a cup, and then we'll sit at the kitchen table and he'll tell me about people I went to high school with whom he happened to run into around town, or reports on those people from their parents (whom he happened to run into). I, in turn, will tell him whom I've reconnected with on Facebook, who's had a baby and who moved across the country, who is happy and who is still searching.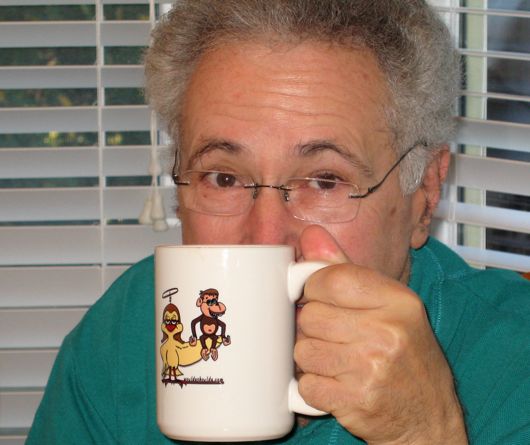 (I even let him use my favorite mug.)
It's not that we can't (or don't) have those conversations from afar, it's that they're infinitely better over the crumbs the kids left behind from their breakfast.
Happy Love Thursday, everyone. I hope you have a bottomless mug of coffee love to share when the need arises!