There's an interesting study to be made of my decorating choices in my first marriage and the different sorts of items I place importance on, now, in this home. Everyone I know goes through that phase in early adulthood where you don't so much "decorate" as "scavenge," of course, but even once the money was there to be more deliberate about our furnishings, oh, what a different person I was back then.
Our dining room set was… sturdy. Yes. Oak, mostly. Official-looking. We rarely used it. The price was excellent, as I recall, and I talked about reupholstering the (uncomfortable) chairs at some point, but I never did it, even though we owned that set for many years. It weighed a ton. And although I had a few pangs of guilt about selling it before I moved—it had been a housewarming purchase from my parents—mostly I was relieved to be rid of it.
In contrast, the "living room" furniture purchased a few years into that marriage had sat unused for years and was then trucked down here to Georgia and married to the rest of the kid-friendly, bounce-all-over-it family room furniture. There is something so freeing about ACTUALLY USING your "fancy" furniture! I highly recommend it. This set—purchased well after the ten-ton dining room set—was actually chosen for comfort, and so I am delighted that it's now being used and enjoyed (and I don't miss having a separate living room, either). My only regret with these pieces is that I selected a very safe and boring beige/taupe fabric for them. But now they sit against the copper wall, atop a red and copper rug, with a few brightly-colored throw pillows. Problem solved.
The biggest problem in moving without a dining room set was not, actually, selecting a new table and chairs. I managed to justify that one just fine, and you are probably sick of listening to me sing the various praises of how much I love my new furniture. The chairs are comfortable and the table is huge and we actually USE it and all is well. No, the problem was that we didn't buy a china cabinet.
And so for over a year I have had two big "dish pack" boxes sitting in our bedroom. I never unpacked them. I never even UNTAPED them. There was nowhere to put the dishes, so why bother? And really, I am not a fancy china sort of person. We'd get a cabinet whenever we got it. Or something.
Of course, about a month ago I started looking for a cabinet in earnest. This house feels like home, and we've redone floors and redone walls and hung art-like things and all of that… and still I had two giant boxes to run into every morning in my bedroom. Enough, already.
Eventually I found The China Cabinet (harder than you might think; if you have a non-traditional dining set it is surprisingly difficult to find a cabinet that works style-wise without having to sell any essential organs to afford it) and ordered it and it arrived in a couple of boxes. Which was awesome, because we CERTAINLY didn't have enough boxes 'round here. Ahem.
This weekend Otto and I put it together (by which I mean, Otto put it together while I handed him things) and put it in the dining room. "NOW the dining room is finished," we said.
Except that it wasn't, of course. I had to unpack the two boxes.
I'm sure it's not a surprise to hear that I never picked out china. I refused to, because I thought it was a waste of money and that we'd never use it. But when my grandmother died, my father offered me her china set, and I accepted. Upon receipt I scrubbed it all and stacked it in the 10-ton china cabinet, where the flowers and gold edges meshed perfectly with the country aesthetic of that furniture. But I never used it.
Unpacking those boxes, last weekend, I chuckled a little as I carefully stacked the pieces inside this modern-looking cabinet. It was incongruous. Not only that, but the colors of the china are now particularly out of place in the newly redone room; the china is greens and butter yellow and that room is now tones of deep orange and brown, with the navy blue lower walls for accent. These dishes—much like my old dining room set—are not my style at all.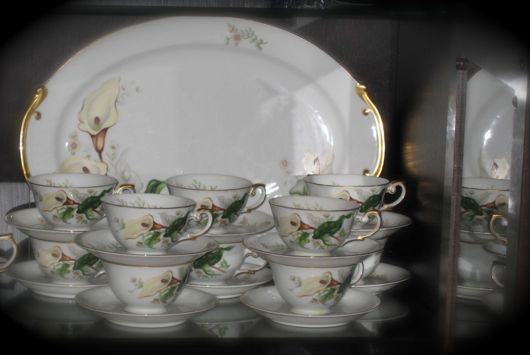 My style has changed, over the years, to be sure. But these dishes remind me of my Grandma Rose, and they belong here.
We will use these dishes, these dishes that don't match the room or our style and have chips here and there, and I will tell my kids my favorite stories of the woman who always spoke in hyperbole. I'll tell them how she always concluded a meal by saying that she was so full she could "plotz" or that she wouldn't eat again until next week. How she would refer to my dad, my children's gray-haired Grandpa, as her "little boy" and tell me that if she'd had it to do all over again, she would've had four or five kids and demanded they all live at home and go to a local college. How she used to take me around to meet her friends, telling them that I was her only granddaughter and that she called me Sarah Heartburn because "this one is a real actress." How she would've delighted in Chickadee, and told her how much she is like me and how she's going to take over the world someday; how she would've been powerless against Monkey's charms and probably told anyone who would listen that he's far too pretty to be a boy.
I'm not a terribly sentimental person. But those dishes remind me that although some things change, other things don't. And that the old (and the memories) can and should settle in amongst the new.
Happy Love Thursday, everyone. Here's to the love that grows and changes, yes, but not so much that it can't feast on the dishes that don't match.