I'm still sick and pitiful, so this will be a quick one, but it's one that I've been meaning to write about for a while.
Long ago—before we were engaged, even, I think—one time Otto was visiting us for the weekend and Chickadee was flitting around with a bunch of craft supplies and stuck a butterfly sticker on his shirt. She thought this was hilarious. Because, it was a sparkly butterfly! On a great big MAN! SO FUNNY!
I expected Otto to dispose of the sticker at his earliest convenience, though he humored her at the time by thanking her rather elaborately for the nice gift. This made her laugh even more, of course.
I promptly forgot about the entire thing, and so when I was visiting him next and saw a small butterfly sticker on the corner of his laptop I was confused.
"Where'd you get THAT?" I asked.
"Chickadee gave it to me," he said, in a voice that conveyed his amazement that I manage to remember to breathe.
"And you kept it?" I asked, because I was on a roll with the being stupid and all.
"I figured I should," he said, with a shrug.
And so the butterfly lived on his laptop, a little bit of glitter in his otherwise pristine and unadorned surroundings. It sat there quietly, without fanfare. Just an unexpected addition someone might not even notice.
The time came when Otto needed a new computer, and so he ordered the new one and it came and he transferred his data over and wiped the old computer and sold it. And he transferred the sticker to his new machine. I bet he had to use some glue, even, but he did it. And the new machine—like the old one before it—sports the butterfly in the corner.
Otto is SO not a sparkly butterfly kind of guy. Except that, since joining our family, I guess he kind of is.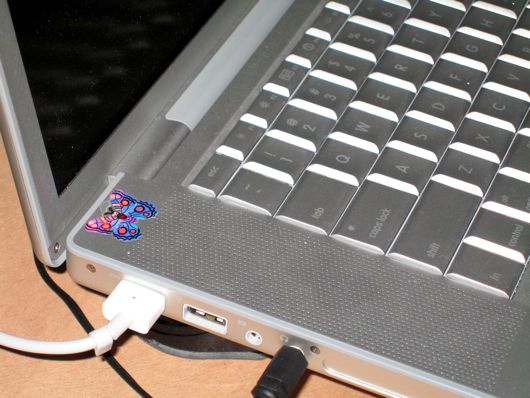 Happy Love Thursday, everyone. Here's to the love that adds just the right amount of sparkle to life.