You name me a discipline method—other than corporal punishment—and I have tried it. I have punished for being bad and I have praised for being good and I have tied allowance to behavior and I have set marble jars on the counter (good deeds put marbles in, transgressions take marbles out) and I have overreacted and underreacted and just plain REACTED over and over again.
And any parenting book I could write, at this point, with ten-and-a-half years of experience under my belt would read like this: "Pray. Then buy rum. The end."
This is to say that I think my kids are going to turn out alright in the end, but more through dumb luck and sheer perseverance than through any sort of remarkable parenting on my part. And particularly when it comes to my oldest, I am fond of observing that all of the behaviors which will make her a FABULOUS ADULT are the ones that make her a TRYING CHILD.
Because, really, what do I want for my kids? I want them to have a clear sense of who they are and what they want. I don't want them to succumb to peer pressure. I don't want them to be afraid to stand their ground. Truly. But is it SO much to ask that FOR RIGHT NOW they bend to my will?
Don't answer that.
Anyway, the fact of the matter is that it's very easy to fall into a negatively-reinforcing rut. (Look at me, all fancy with the big words. This is what a lifetime of therapy gets you, folks. Summer homes for the therapists, and sparkly phrases for you!) A child who often misbehaves will naturally hear a lot of rebukes, and a lot of rebukes can foster a "why even bother" or "I'm always in trouble anyway" attitude, which in turn leads to further poor behavior. And before you know it, you've got an unhappy kid, and unhappy parent, and dreams about foreign military boarding schools.
With the help of Chickadee's therapist, we have recently instituted a new token economy here at home.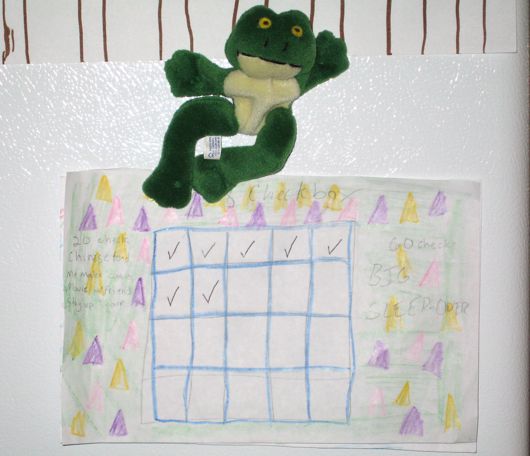 Chickie designed the chart and came up with the rewards, and the therapist and I loosely outlined what would merit a check. Simply put, she gets checkmarks for being "caught being good." And they cannot be taken away, even if she's later completely rotten.
If she fills this sheet (twenty checks), she can choose from the listed prizes. I thought her eyes were going to pop out of her head when I said that yes, she could not only bake cookies, but she could do it ALL BY HERSELF if she liked. It was as though I'd just agreed that she could rent dirty movies and watch them while smoking.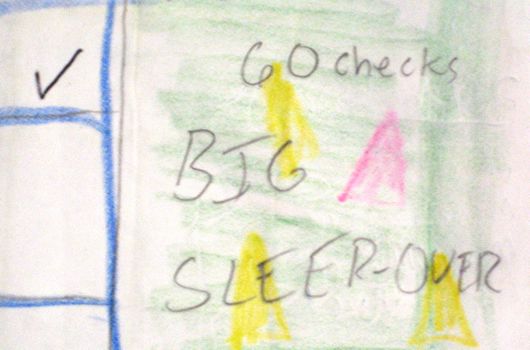 If she elects to forgo the twenty-check prize twice, and holds out, instead, for a prize at sixty checks? She gets to have a slumber party. An honest-to-God, shrieking-girls-up-all-night, slumber party. I agreed to it through gritted teeth, while breaking out in a cold sweat.
(And I am ashamed to admit that part of me figured she'd never make it to sixty, anyway, so probably I'd never have to make good.)
The idea, of course, is that she's working towards a goal, and she can see her good deeds add up, and she will become increasingly more motivated to behave. The reality is that sometimes she forgets entirely, and other times she's such a brown-nosed suck-up that it makes me laugh. (You haven't lived until you've seen a kid WRESTLE the compost bucket from her brother so that SHE can go dump the rotting bananas!)
The other reality is that this is a sham of an exercise in terms of changing HER behavior.
I am checking off boxes and saying things I'm often too grumpy or tired or distracted to remember to say. Things like, "Thank you so much for doing that," and "You just made my life so much easier, taking care of that for me!" and "I am really proud of you for making a great choice." Things like, "That was incredibly sweet of you," and "Have I told you today how much I love you?" She lights up, and I make a mental note to remember THIS, not the other stuff. To remember to be kind; visibly, purposefully kind to those I love the most, rather than assuming that they know. It doesn't matter what you know if you don't hear it enough.
It shouldn't be hard. And it's NOT hard, not really, but it turns out that I needed a little help. We both did.
Behavior 'round here is much improved. And my daughter is being pretty well-behaved, too.
Happy Love Thursday, everyone. Here's to the work that makes even the strongest love that much better.