I'm not being the person I want to be, this week. I'm not entirely sure why, either. Sure, I'm tired, I'm fighting a cold, I'm feeling somewhat overwhelmed with work… but none of those things is the reason. Maybe it's the combination, maybe it's none of that at all. I am just—as I grumped at someone, earlier—Having A Week.
The unfortunately side effect of this situation is that I'm not exactly being patient with my children. I am TRYING, really, but if I'm being perfectly honest I have to admit that I am NOT succeeding.
They are driving me nuts. They are driving me nuts by BEING KIDS. The nerve of them.
Chickadee's mission in life seems to be testing my patience even under the best of circumstances, and my tolerance for her standard arsenal of selective hearing, half-truths, and penchant for flinging barbs at her brother is at an all-time low. I am not proud of this.
Monkey… oh, my Monkey. Monkey doesn't have a harsh bone in his body, you know. Monkey is a skeleton of compassion, covered with skin comprised entirely of warm, fuzzy kisses. Unfortunately, he is also a primate of very little brain when it comes to remembering things. Like, say, remembering to bring his assignment book home. Two days in a row he has forgotten his homework, and on the second day he didn't even remember to tell me he'd forgotten it. My reaction to this state of events was not pretty.
Then, of course, there's the notebooks left on the table, the Lego left in the family room, the backpacks spilling over by the door, laundry on the stairs, and the pantry doors left flung wide open after snack. Everywhere I go there is evidence that two small self-absorbed people live here, and this week, every reminder feels like reproach for my failure to instill good habits in the very people I am supposed to be molding.
This week will pass, of course. (Why, look at that—it already almost has.) The kids will forgive me for not being at my best, and I will forgive them and myself for not being perfect.
People keep telling me that when these days are over, I will miss the little messes and the noise and the drama. I know that it's true, too. I will. And when I look back, I don't want to remember the frustration and the bickering and the wondering (and occasionally asking) WHAT IS WRONG WITH YOU? Because nothing is wrong; this is just how this particular journey goes.
I won't look back and remember stepping on toys left on the floor or library books lost in the couch or even the week when I was cranky and Chickadee cried over her homework and Monkey couldn't remember to bring his home. I'll remember family dinners and nighttime tuck-ins and the times when we all got it right. Or maybe the times when we got it wrong but it was still okay.
I'll also remember that Monkey never forgets to practice piano.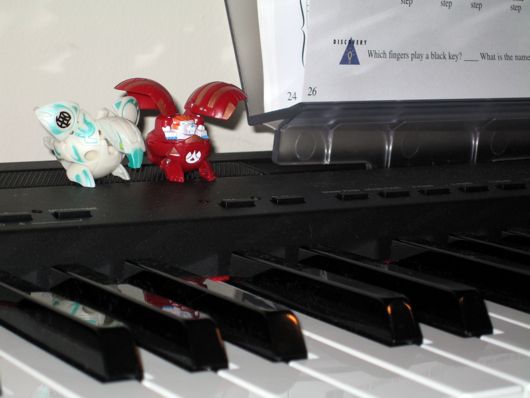 His Bakugan like to watch, apparently. And then an hour later he couldn't remember where he left them. Of course.
This one, I can remember for him.
Happy Love Thursday, everyone.