Just a quickie, today, as I'm running around.
Karen Walrond's Love Thursday post today is about friendships, and it reminded me that although I have a terrible picture to accompany this story, I wanted to share it. [Edit: I came home and the blurry photo was still bothering me, so I took a better one to replace it. Revisionist history! Right here on Woulda Coulda Shoulda!]
Back when Otto and I got married, he took the kids aside the day before the wedding and gave them each a gift. Monkey got a tie clip that matched the one Otto would be wearing, and Chickadee got a necklace. A prayer box necklace.
A prayer box, if you've never seen one, is a little box charm designed to hold a prayer—you unhinge it, whisper your prayer inside, and then close it up and wear the necklace, keeping the prayer close to your heart.
At the time, I think that Chickadee may have whispered into the box that she hoped Otto would vaporize and her dad and I would magically fall back in love and remarry. And really, I am being kind in my supposition; it may have been something more violent.
Regardless, she wore the necklace at our wedding, and over time has pulled it out to wear more and more often. Lately she has taken to asking Otto to fasten it for her, when she wears it, too.
Nowadays, Otto and Chickadee are pals, and I suspect the prayers my daughter whispers into her prayer box are very different than the ones she may have thought up a year ago.
For my birthday, Chickadee bought me… a prayer box.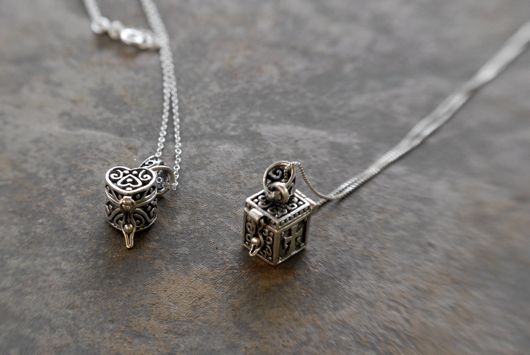 Hers is the square on the right, and mine is the heart on the left.
"It's so that you can keep YOUR prayers close to your heart, Mama," she told me. "Just like me. Except yours is a heart, because you always say I'm your heart."
I whisper prayers of gratitude into my prayer box, fervent thanks for the friendships in my life—my gal-pals, sure, but also the genuine enjoyment of my children, anticipation of the friendship we'll share when they're grown, and for the friendship my husband and children are cultivating with each other.
Happy Love Thursday, everyone.