Thank you for all of the kind birthday wishes! As it turned out, this weekend marked what was perhaps my favorite birthday in a very long time. It was low-key and unremarkable, but no one bled or screamed or told me they hated me (to my face, anyway), and there was excellent food and many hugs and kisses, and it was all very nice.
Otto took me out for a fancy dinner on Saturday night, and while my margarita wasn't quite as big as my head, it WAS very yummy. I had duck that came all fanned out on a plate like origami and Otto had frogmore stew that came in a bowl bigger than the one I use for mashed potatoes at Thanksgiving. Because neither of us had had nearly enough food, we also had dessert (I had peach turnovers with ginger ice cream, and they are not fooling anyone at that fancy restaurant, THAT THERE IS SCRUMPTIOUS FRIED PIE) and then staggered out of there, full to bursting and very content.
After which, we went to the hippie grocery store and bought a big steak that presumably came from a pampered, organic cow who simply died of ennui while protesting global warming.
(No, we weren't hungry again. It was so that we could have a family birthday dinner, last night. In our family, nothing says love like dead animals. Preferably dead animals lovingly coated in spice rub.)
Yesterday the kids fussed over me (after letting me sleep late!) and told everyone at church that it was my birthday (oh, so many sympathetic looks!) and insisted we do something fun together as a family. Alrighty! What to do?
Otto suggested we all go for a bike ride. But my bike—purchased use while I was in grad school a hundred years ago—is having technical difficulties. The tires were flat, so Otto pumped them up for me a while back, but they went flat again. They surely need new tubes, if not also new tires. "My tires are flat!" I protested.
"I'll pump 'em up for you," he said.
"But they'll just go flat again! Like before!" I said.
"Probably not right away…" he said. And lo, my heart was filled with reassurance. Oh, wait. NO IT WASN'T.
"I need new tires," I grumped. "And it's stupid, because I hate that bike, anyway."
Yes, I am totally in a position to judge the bike I haven't ridden in ten years. I have a vague memory of hating it! Probably because it required me to move, but no, I'm CERTAIN it's because I always feel all hunched over the handlebars. Also, there are too many gears. What do I need all those gears for?? I don't.
And that's how Otto and I got the brilliant idea that I need a new bike.
We poked around online and I found just the beauty for me: A shiny retro Schwinn cruiser. 7 speeds, so not ENTIRELY a granny bike, but… well, yeah, it's a granny bike. But it's SHINY! And RED! See?: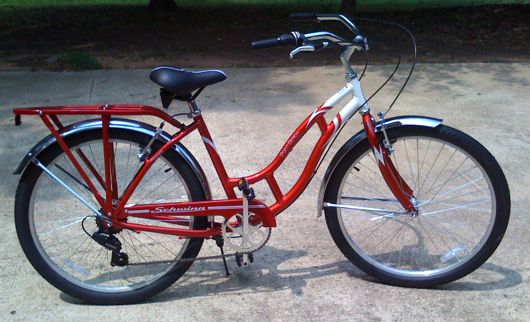 I was so taken with it that Monkey and I went out to the Big Box Store carrying it and bought it immediately. And by "immediately" I of course mean "after half an hour of waiting for the 85-year-old employee to put it together for me."
By the time we got it home, it was pretty hot out, so we decided to wait until after dinner to go for our ride. Once we were all full of steak and potatoes and asparagus, the time had come!
Now, I want you to understand that I didn't crash the bike or fall over or hurt myself, or anything. But the reality is that my bike-riding experience went more or less like this:
Wow, this is so much fun. I love this! How did I not know how much fun this is? The wind on my face, the— ow. Hey. My thighs feel sort of… OW. Jesus, THAT BURNS. What the hell? I'm not even half a block from home! Maybe if I switch gears. That's… better. Yes, that's better. I'm okay. I'm pedaling. It's alright. That— DAMMIT. I'll just switch gears again. Um, I seem to be out of easy gears, and yet I still can barely pedal. My thighs are QUIVERING, and not in a good way. OW OW OW. I think I'm having an asthma attack.
(My internal monologue is kind of a whiner.)
It turns out that I am in the worst shape of my life. I KNOW, IT'S SHOCKING. I mean, who knew that sitting at a desk all day and going for a nice brisk walk once a month whether I need it or not is not enough to stay in peak physical fitness? I HAD NO IDEA. But it was all kinds of fun to be out with the entire family and I do love my new bike very much, so I vowed right then and there that I will work on getting myself into good enough shape that riding my bike will not make me want to lay down and die.
This morning I suited up and headed out full of hope. I'd just do a short ride, something to ease myself into it, and then I can feel good, knowing I'm on my way to better fitness.
The same thing happened as before—my thighs began to scream in agony less than a block from the house. I decided I would just breathe deeply and pedal slowly. So I did. And that worked to keep me calm for about two minutes, and then I realized that—unlike all of my unsuccessful fitness attempts at home with DVDs or whatever—I was OUT IN PUBLIC on the STREET and that people could see me on my shiny red bicycle, floundering and panting for breath.
I soldiered on, and ten minutes later I was back home. I rode my bike into the garage and dismounted… and nearly fell on the floor, as all of the bones in my legs seemed to have liquefied.
It's going to take more than a shiny bike to get me back into any semblance of shape, I'm afraid.
There are milestones in life, you know? Baby's first birthday. The first birthday in the double digits. The first birthday as a teen; sweet sixteen; and the highly-coveted "of legal age." Twenty-one is a big one, and so is thirty.
I am here to tell you that thirty-seven is another monumental event. It's the year you realize that that you're too old to continue living like you're in your twenties and too young to be at peace with being flabby and out of shape. It really sort of sucks, actually.
Still, I'm really digging my new bike. If only I didn't have to ride it with my old thighs.