This afternoon, Otto and the kids headed out to the library and I finally cleaned my desk. It's time to clean my desk when I can't actually, you know, find my laptop on it. The laptop connects to a monitor, so it's not like I can't USE the computer if I can't actually FIND it. Still, if I'm thinking of unplugging the laptop and taking it elsewhere and can't do it because touching any one of the teetering piles of papers or books might set off a chain reaction that will potentially cause my desk to collapse, my office to implode, or me to utter many, many non-child-friendly words, that means it's time to clean up.
And being the organized businesswoman that I am, when I reach that critical point, I get right to cleaning my desk. Within a month. Two, tops. Look, I get to it eventually, okay? Shut up. Today I did an exceptionally thorough job of it.
I threw away garbage and filed receipts and paid bills and balanced my checkbook and set aside a stack of the kids' stuff to go into the "school papers that must be saved" box and another stack of the kids' stuff to go with the "your stuff does not belong on my desk" lecture and finished mailing off the very last of the "Hi, please take my former husband's last name off of my stuff" paperwork (hey, I've only been remarried… ummm… 15 months!) and shredded the stuff that needed to be shredded and answered some email and sewed a button onto Chickadee's new pants that only cost a quarter because they were missing a button.
Dude, I'm like SUPERWOMAN or something. At least, I was for a couple of hours this afternoon.
The rest of the family came home and there was some very important Olympics-watching, for a while, and then we went outside and swam and then came back in and had showers. The kids got into their pajamas, and Otto and I got somewhat gussied up, and now we're going out to dinner for our first official date in entirely too long. I hope to have a froofy girly drink (preferably a margarita or a pomegranate martini) as big as my head AND dessert, because I am celebrating the fact that this hellacious summer is over.
This morning, for our Saturday morning pancake ritual, Otto presented me with this: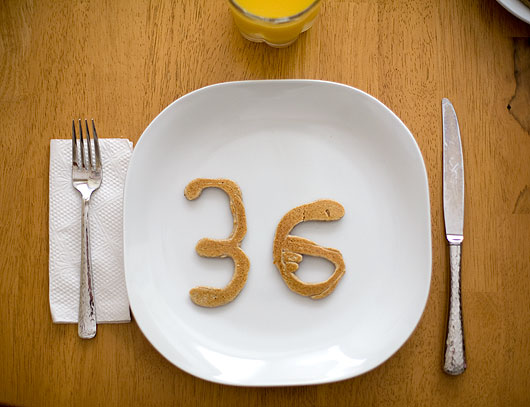 He said it was to celebrate my last day of being 36.
"Oh!" said Kira. "You have to enjoy this coming year, because it's your last one in your MID 30s! After this it's LATE 30s and then a steep slide toward death."
(That Kira—she really knows how to cheer a gal up.)
I don't know about the steep slide towards death, but Monkey got a load of my plate and burst into song:
Monkey: Happy almost birthday to yoooooooooouuuuu! You don't live in a zooooooooooo!!
Chickadee: Yes she does. Have you SEEN our rooms?
Monkey: You sme-ell like… FLOWERS! Aaaaaand IIIIIIII love yoooooouuuuuuuuuu!!
Chickadee: Suck-up.
While I'm not sure I'm entirely thrilled about turning 37, even in light of the recent suckitude I have to admit—36 was a pretty good year. I think 37's gonna be okay. Maybe I'll even keep my desk clean, this year.
Well, probably not. But I think it's important to have dreams.
And dessert. Did I mention dessert? Because I am SO having dessert tonight.