There are things I love about being a mother, and things about it that drive me insane. This is pretty typical, I'd guess, but on the whole I give this whole mothering gig a hearty thumbs up. Insert the cliche of your choice here: It's the toughest job you'll ever love! It's the decision to have your heart walk around outside of your body! Etc.
I'll just say that I really didn't understand inspiration until I became a mom. Also, it's nice to have someone else to water the plants for me. (What?)
There are things I love about being a writer, and things about it that drive me insane. This is pretty typical, I'd guess, but on the whole I give this whole literary pursuits gig a hearty thumbs up. This is, in fact, the longest I've stayed in a single career, and the first time I didn't hate everyone and everything about it before a year had passed.
I'll just say that once I really started doing this, I wanted to go back in time and smack myself—HARD—for not realizing that this is what I should've done all along.
Although my family delights in retelling the stories of my bullheaded certainty that I was going to be the next great American actress from a very early age, there's another story that goes back even further. It's one that's best told in snapshots, and pieced together with scraps of bookmarks.
It starts with teaching myself to read when I was about three, and constantly negotiating the number of books I was allowed to read before bed.
It continues with the confiscation of countless flashlights as I read under the covers past bedtime, and that one fateful time when my mother realized I'd laid a pair of jeans along the bottom of my door to hide the light spilling out because I wanted to read rather than sleep.
It goes on into the years when I made myself a favorite of each school librarian, as I read through the shelves, methodically, and preferred hanging out inside with a book to being teased on the playground.
It covers the time my mother argued at the town library that it was ridiculous that a child's card only allowed six books at a time, and maybe gets a little bit of decorative foil or something on the day we realized that I'd read every book they had in the Young Adult section.
I suppose that day—when I then began borrowing from the adult section—is the last necessary point of interest. The gateway, such as it was, to the continued lifetime of book-devouring, less remarkable though it may be as an adult.
And so, naturally, I hoped that my children would share my love of the written word, but I knew it was hardly something one could order up, any more than I could've requested Monkey's dimples or Chickadee's sense of humor. All I could do was provide ample reading material and keep reading, myself.
I needn't have worried; sometimes it takes a virtual crowbar to pry them away from whatever they're reading, to get them to come to dinner or get ready for school or HELLO, CROSS THE STREET AND LOOK WHERE YOU'RE GOING, ARE YOU TRYING TO GIVE ME A HEART ATTACK?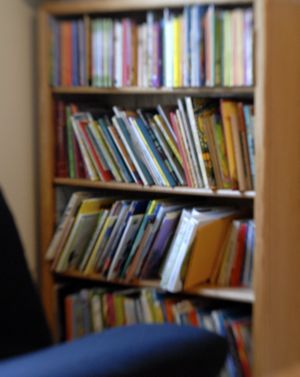 In this house the children have both a playroom and a reading room, which—for those keeping score at home—does mean that they get a majority of the house to themselves and that they are spoiled rotten. It also means that they have a futon nestled between two overflowing bookcases, and that one or both kids can often be found sprawled on the futon in a state of oblivious bliss, flipping pages and immersed in a different world.
There is also a coffee table in front of the futon, covered in books, and both children have books all over their rooms, and if you REALLY WANT TO SEE A TRAGEDY, 'round here, just try threatening to NOT TAKE THEM TO THE LIBRARY. (I recommend you have some earplugs if you want to try that, though.)
Would I love them to pieces even if they hated to read? Of course. But is it all manner of fanfreakingtastic that they do? You betcha.
To recap: I love to read, and my kids love to read. That's lucky. I love to write, and I'm lucky to be able to do so. All of that would be quite enough, really.
But then I got even luckier; now I get to read, and my kids read, and we talk about it, and laugh about it, and then I get to write about it. So now I'm realizing that I'm not just lucky, I am living a life I'd never dared to even want, back in the dark days. Because it's crazy. It's awesome. I love it, and I'm so very lucky. On all counts.
Happy Love Thursday, everyone. Stock your bookshelves… and then cross your fingers.