It's incredibly hard to type while you're dancing. Especially when you're doing a little jig. And believe you me, I am doing a jig right now. I'm busting a move the way only a woman in an empty house can, because today is THE FIRST DAY OF SCHOOL.
(Dun dun dun!)
There's absolutely nothing else like the first day of a new school year. The excitement; the inability to sleep the night before (them AND me); the carefully thought-out lunches (unlike the ones I'll throw together in a hurry, later this year); the planned outfits; and—of course—the new shoes.
First day of school = new sneakers. I'm pretty sure that's in the Bible.
Look; I'm not a "back to school wardrobe" kind of person. I don't go out and buy the kids new stuff just because school is starting. But after a summer of sandals and sprouting up, new sneakers are a necessity to head back into the Land of Learning.
And there is little in this world I love more than some squeaky new sneakers on nervously dancing feet as I'm urged to Come on, COME ON, MOM, WE NEED TO GO.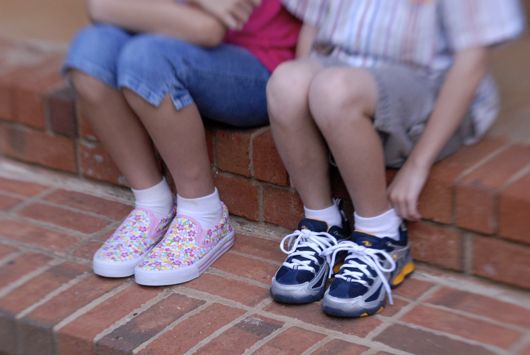 They suffered through the obligatory First Day of School photos before we took them in, and Chickadee scowled at the camera until I started singing Supercalifragilisticexpialadocious, substituting in lyrics that suggested that if she failed to pony up with a smile I would be singing this in her classroom at top volume. She cracked, and we snapped our shots, and then we were off.
As for the love being in the laces, well, yes, I realize that Chickadee's shoes don't have laces. Maybe that's a bit of a metaphor. Maybe it's a fitting one, too, as Monkey's love is easier to apply and more on display than his sister's. There's love all through those shoes, though— enough to take them through the first day and plenty to spare.
Happy Love Thursday, everyone. Here's to the love that puts a spring in someone else's step.