Otto isn't here, so apologies in advance for my pictures, such as they are. It turns out that my dining room is both small (hard to maneuver!) and low in lighting (unless it's the middle of the day, in which case I could probably blind myself in there), so just PRETEND the pictures came out great.
So. The dining room is DONE. Yesterday I put all the furniture back, like so:
Jesus, whose idea was it to have EIGHT heavy chairs that needed to have felt discs attached to all the legs and be brought down the stairs?? (Mine? Oh. Nevermind.)
So that up above is a pretty decent view of how the *$(&#% Venetian Plaster came out—a nice mellow terracotta, just like I'd hoped. You know, just like I'd hoped thirty-seven layers of paint and wallpaper and plaster and trim-painting ago. (Note to all drug addicts: If I could get through this without the use of tranquilizers, you too can kick the habit! I swear!) The blue is rendering a bit too brightly in that shot, but I don't know how to fix it. Oh well.
So how's the whole effect, with the floor and everything?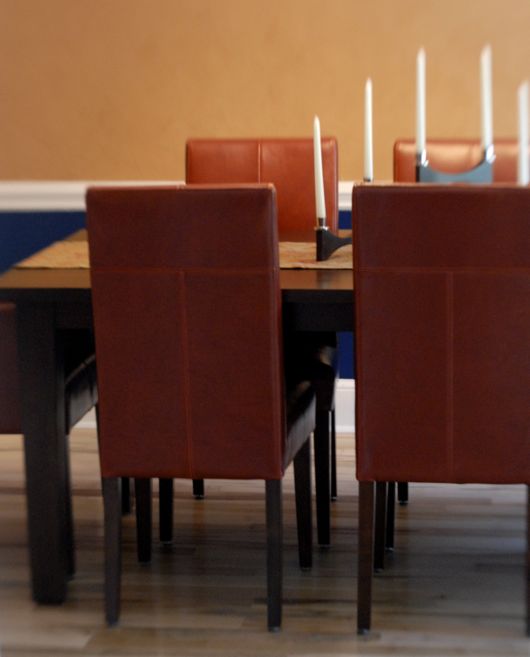 You know… I think I'll take it. It was a long process that I NEVER EVER EVER WANT TO REPEAT, but I'm pleased.
And while I was sitting in the family room typing this (no pics of in here until the rug comes, because right now this space is an endless sea of beige and brown, WHOOPS), I was thinking how great it feels to be DONE and not have to worry about any house stuff for a while. No more contractors! No more sawdust! No more feeling like things are unfinished!
My happy thoughts were interrupted by a funny noise. Against my better judgment, I investigated. Hey, GUESS WHAT!
There is… SOMETHING… in the wall. Something ALIVE. With CLAWS.
I am not even kidding. Yeah. So. Um, let's all go admire the dining room some more! With the MUSIC TURNED UP!