You'll have to forgive me a bit of sappiness, today, but this is what happens when I've just been to what was perhaps the nicest wedding I've ever attended (I'm not counting my own, you understand). While MY "year of living changerously" can be said to have already lapsed, on this last trip I was struck several times by the enormity of such changes for others.
Then, of course, it occurred to me that EVERY year is a year of change, for nearly everyone. But the changes wrought by love are my very favorites. I'm feeling incredibly blessed, today, to have gotten to share in some of these changes with our family and friends. This is especially true because we all know that I have chronic foot-in-mouth disease, and I remain astonished that anyone ever lets me go anywhere with them. (Hey, if I hadn't shouted, "I THINK YOU SHOULD PULL THOSE PANTS UP A LITTLE HIGHER, OTTO!" during the pre-wedding slideshow featuring my beloved as a child in polyester bell-bottoms up to his armpits, who would've?)
Unfortunately, I didn't have the presence of mind to clear the sharing of wedding pictures before the new couple left on their honeymoon, so I cannot show you how adorable they were. It's just as well, because it would've made your teeth hurt. They couldn't stop smiling.
At some point after the wedding I realized that I had never seen the card Otto purchased for them, so I asked him if he remembered to bring it. "I took care of it," he said.
"But I didn't get to sign it! Did you sign my name, too?"
Otto gave me the "have you been drinking?" look and chuckled. "Yes, dear. I signed your name too."
"Well what did you write in it?" I pressed, ever the micro-manager, wanting to be sure that he'd said something I would've approved of.
"I told them that I hope that they will be as happy together as we've been with each other," he said, and then I melted into a puddle all over the floor.
This is their year for everything to change, and he's right—there's nothing we could wish for them beyond the same happiness we've had. Not that it's easy or without hiccups, but it's definitely worth the price of admission.
* * * * *
Our last night in Massachusetts we went and enjoyed the evening with a group of friends Otto has known since high school. These dinners are always the highlight of our trips up there; the food is good, the conversation even better, and I was literally welcomed into this circle with open arms years ago, when Otto and I started dating the first time.
One of Otto's friends and his wife had a baby about a year ago, and while I would've happily passed the evening just enjoying the adult company, I may have squealed a little when he walked in the door with the baby.
Meet Vivian: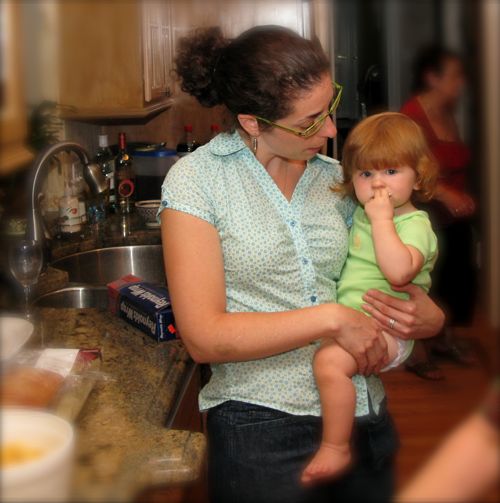 (In case you can't tell from that picture, her head smells wonderful.)
Granted, this particular baby is especially beautiful and personable (if you must know, I won her over with a cracker, because I am not above bribery when it comes to baby head-sniffing), but is there ANYTHING better than a baby? I don't think there is.
Except maybe this: Watching the baby's parents.
Truthfully, I wasn't entirely sure I liked Otto's friend, the first time I met him. (I am going to get in trouble for admitting this.) I knew that if he was one of Otto's "inner circle" that he must deserve to be there, but I didn't see it, right off. I saw someone who struck me as a player. He grew on me, though, and to compare the man I first met about five years ago to the man who swung his daughter up into his arms while she chattered "Daddy! Daddy! Daddy!" was something to behold.
It made me all nostalgic for my own first year of parenthood, and as I handed Vivian back to her dad I was profoundly grateful both for the chance to enjoy her babyness and that mine are no longer that small. Rather than longing I just felt right.
I'm right where I belong, right here. As are the newly marrieds. And the new(ish) parents. We're all living changerously, in different ways, all the time.
Happy Love Thursday, everyone. May you know the love that changes everything, always.