(Dear Google, You're welcome! Next time I'll try to work THREE obscene words into the title!)
Okay, so, the contractor came over last night and we three stood around discussing The Issues With The Floor. He's a good guy, our contractor. Within the first ten minutes he was able to quell my fear that he'd just plain installed the floor with a crowbar in one hand and a fifth of bourbon in the other, so that was an excellent start. I guess—and wow, does living here give me an education OVER AND OVER or what?—that when you live in a really humid climate it's incredibly difficult to lay in a wood floor perfectly. Apparently they take the wood outside to do the cuts, and the door is open, and they lay the wood in tight and it looks great… and then you close the door and run the air conditioner and everything shrinks a little.
(My poor floor. Subject to embarrassing shrinkage.)
Soooooo he spent some quality time puttying some cracks, and we walked around and figured out a few areas that do in fact need to be redone, and in the end I was… well, HAPPY is too strong a word, but LESS HOMICIDAL, anyway.
And as Otto (a.k.a. Mr. Bright Side) keeps pointing out, very few people are going to go nose-down on the blank floor. We're putting the furniture back in, and most people are 5 or 6 feet up, anyway, and it's mostly fine. I guess.
In better news, the wood itself is still quite awesome-looking: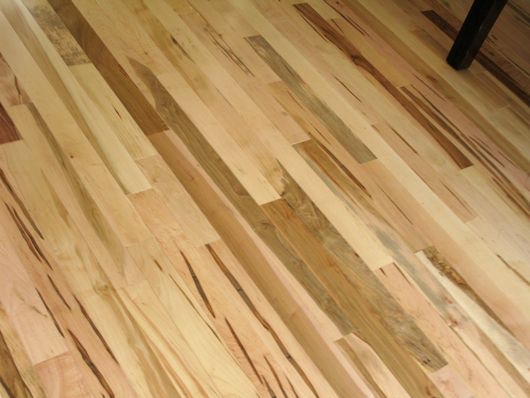 See? SO PRETTY. IF YOU SQUINT A LITTLE.
On Thursday the contractor will come to "finish it up" (pull up and replace the pertinent pieces, kiss my ass, etc.) and I will be busy "working" (eating ice cream, shopping online for an area rug, etc.) while he does so. So there's that.
* * * * *
And now for the pimpage:
In the continuing saga of my love for dairy (and—even deeper—my love for the people who pay me to write about my love for dairy), my latest article on Gather is now live, and it's all about how much I love my blender. Really.
Also, I think I mentioned this before but you can see it online, now: Redbook picked me as one of six "Inspiring Female Bloggers" for feature in their August issue. Then I got to try to summarize 4+ years of writing online in just 400 words, and that was STUPENDOUS because you know how succinct I tend to be!
Finally, it looks like Sleep Is for the Weak has started shipping from Amazon. Just a little heads-up in case you didn't pre-order it. The nice thing about having 24 contributors or however many we ended up with is that I don't have to worry that my dad is the only one buying a copy. Heh.