The fun and excitement and travel and near-death experiences just NEVER END around here. Not everyone could be me, you know, and that's both because it would be confusing to have more than one of me AND because you need an iron constitution to survive my life. Just in case you were wondering.
So I've had this great Love Thursday post planned since last week, back when we'd gone and spent the 4th of July doing patriotic things like letting the children handle fire.
(Yeah, see, I thought I understood patriotism when I lived in New England, but that was before I moved to Georgia, the Let Your Kids Set Off Their Own Fireworks state. Silly me!)
Oh, we didn't really let the kids set off their own fireworks. At least I think we didn't. Actually, I have no idea, because I refused to participate in the fireworks extravaganza, opting instead to stay inside like the delicate lady that I am. With Joshilyn. And Kira. And some wine. We all express love for our country in different ways, you know? I express mine with Pinot Grigio.
No, what we did was send the men outside with the children, where they watched things blow up and played with sparklers and probably didn't touch anything more dangerous than a (highly supervised) match. I hope.
Otto came back inside with this picture: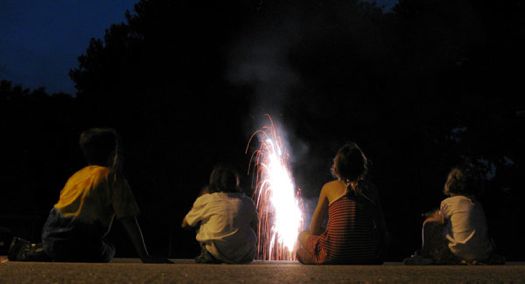 (Sam, Monkey, Chickadee, Maisy)
As soon as I saw the picture, I thought of Love Thursday, of course, and so that was all I intended to share with you today.
HOWEVER.
Welcome to the fun that is my life: Yesterday, Otto and I boarded a plane for Boston, and we settled in with our iPods and after a while I got drowsy and turned mine off and took a nap.
I woke up some time later a bit groggy.
Have you ever woken up and as you're clawing your way back to consciousness you just have a feeling of WRONGNESS? I've had it before—when I woke up in labor, when I've woken up and someone is missing who shouldn't be, etc. Yesterday I woke up with that feeling. With alarm bells.
And you know, I was on a plane that appeared to be staying in the sky as designed, so as I blinked my way to alertness I couldn't put my finger on the problem.
I looked at the woman to my left, and she was reading a book. I looked at Otto, on my right, and he was doubled over with his head in his hands.
I woke up. "What's wrong? Otto? OTTO, WHAT'S WRONG?"
He turned to me only slightly, one hand still firmly clamped over his right eye. "I don't know," he said. "My eye hurts."
Here is what you need to know about me and Otto and pain thresholds. If I bump into a dust mote, I will say "Ow!" If I have a genuine injury, I hope you're prepared to listen to me complain about it for the next month, loudly and often. If Otto were to, say, have a limb severed in an accident? He would shrug and pick up the rest of his leg and say, "Well, that stings a little. I'm just gonna walk it off."
So when Otto complains that something hurts, I LISTEN.
I also listen when he appears to be turning green and gasping in pain. As he was.
As usual, I'm TOTALLY AWESOME in a crisis. I immediately began to hyperventilate as I peppered him with questions. Otto continued squeezing his head and trying to breathe.
"It's just the pressure change!" I babbled. "It's a sinus thing! I'm sure it's a sinus thing. You should try swallowing! And chewing some gum! And you should take this advil, here, take this, and also, can you squeeze my hand? And stick out your tongue? Because I AM A LITTLE BIT AFRAID THAT YOU ARE HAVING A STROKE."
He wasn't having a stroke, of course, but that didn't change the fact that he remained green and shaky for the remainder of the flight. I think it was only my threat of taking him directly to the nearest emergency room that caused him to finally declare that the pain was going away. Once he was feeling normal again, naturally I had to KILL HIM.
Happy &#%#@$ Love Thursday. I'm delighted to be here up north with family, even if Otto did just take ten years off of my life.