When I was discussing the dilemma of keeping my tomatoes watered in this post, many of you suggested that we invest in a rain barrel. This made me giggle, every single time, but it also made me realize that I hadn't yet told you the Story of the Rain Barrel. (I also hadn't told you that county restrictions have been so tight that they forbid even the use of greywater except during certain days and hours, assumedly because the authorities are not interested in having an argument with you about where that water came from and whether you can prove it.)
Anyway, yes, a rain barrel is an EXCELLENT IDEA, and one we started talking about a year ago, when we first moved into this house. It's green! It's environmentally responsible! It's simple enough, and by "simple enough" I mean "something that Otto can figure out while I read my email."
Well, like so many things, the talking preceded the DOING for quite a while. But as the weather began to heat up and the grass started to wilt, the time for action was nigh.
One night Otto turned to me and said, "I'm going to go get the stuff we need for a rain barrel. The kids can help me build it tomorrow."
And being the helpful, supportive sort that I am, I replied, "Okay! Great!" (As I was not required to get off of the couch to participate in this meaningful way, I was up for the challenge.)
Otto went out and came back with a carload of… ummm… stuff. And the next day he and the kids set to work.
I happened to go out into the garage in time to see MAH BAYBEES using Otto's electric drill with unbridled glee (and a bit of guidance from Otto's vigilant, hovering hands), and I tried not to freak out. I trust Otto, obviously. But have you MET my kids? Oh, right, you probably haven't. Well, let's just say that one of them would likely not be above using a power tool as a weapon, should a bit of annoyance set in, and the other is so unaware of, well, the world in general that I could see a hole being drilled clean through bone before the indignation (and the blaming of someone else) set in. I'M JUST SAYING.
Yet there they were, using the drill, passing bolts and nuts, and pleased as punch with themselves.
After the barrel was assembled, the kids fetched bricks from under the deck and helped Otto assemble an appropriate base for the barrel to perch upon, and finally, the barrel was placed with great anticipation.
A few nights later we had a midnight thunderstorm, and we ran out to the barrel the following morning to see if it was full. It was completely empty—the seal around the spigot had leaked.
Otto recaulked the area and we waited. Another late-night storm blew through and again, crushing disappointment. The barrel was not of sufficient strength to support the spigot. "I'll have to get a different barrel," Otto said. "It's okay, we'll redo it."
Then it was time for the kids to leave on another trip, and we sent them off and fell to various chores around the house like spending a gazillion hours plastering and painting the dining room. "Why don't you make a new rain barrel?" I asked Otto one night. "I think it's supposed to rain this week."
He looked at me like I'd grown a second head. "Because I'm waiting to do it with the kids when they get back."
Oh, right. Them. Duh.
The children returned and Otto bought a new barrel. Once again the delighted squeals of small people allowed to use big tools filled the garage. The new barrel was set in place. We stood there and admired it.
And it didn't rain.
A week later, it was nearly bedtime when the thunder started. Once the rain began to fall, Otto slipped outside with an umbrella and a flashlight (and—if you must know—a camera). He returned soaked and triumphant: In less than ten minutes, the barrel was full and holding.
Since then, I've been watering every day from the barrel.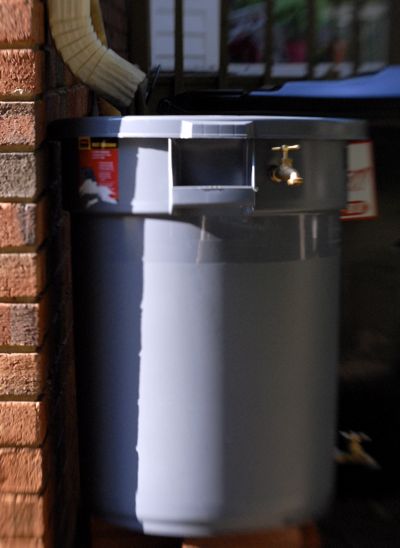 It's unremarkable-looking, I suppose.
It took a long time for him to decide to build it, and the first time it didn't work out. But then he learned from the mistakes of the first attempt and made it right on the second try—in his own time, and prioritizing the way it needed to happen.
Funny, does that remind anyone else of something else that has to do with Otto…?
It was worth the wait.
Happy Love Thursday, everyone. If you haven't found that love, yet, don't give up—I promise you that it's absolutely worth the wait.