Every now and then I get on a kick where I insist that the kids make their beds every morning. But in the grand scheme of behavior I feel it's worth fighting over, I'm not so much a beds-must-be-made kind of person. (Just ask Otto. He makes our bed all the time, except occasionally when he decides to see what will happen if he stops. Here's what happens: The bed doesn't get made.)
Oh, don't get me wrong—if we're having company, then absolutely, the beds need to be made. I'm lazy but I'm not a HEATHEN.
And while I will often exhort Chickadee to just take a minute to make up her bed, I'm less likely to demand that Monkey do so. This is not due to any sort of gender or age inequality, but because Chickadee's bed is unfettered on both sides (easy) while Monkey's bed is against a wall (hard) and also an elevated "captain's" bed, which means it's particularly difficult for a small boy to get around for things like sheet-smoothing.
The sinister truth of the matter, however, is that I vastly prefer it when Monkey leaves his bed unmade.
My darling son sleeps in a heap of tangled bedspread, the top sheet—no matter how I've tried to anchor it upwards for his use—shoved down to the bottom of the bed. More often than not, he'll curl into the corner against the wall, in positions that look so uncomfortable it took me YEARS to realize that I needn't rearrange him when I find him that way. If I would let him sleep in a tiny box, I believe he would enjoy that immensely. And so I have given up on worrying about how he sleeps.
Since moving to Georgia, Monkey has developed a new ritual. You have to understand that when you have a kid who is ALL ABOUT rituals that it is generally not charming and cute, but largely worrisome and exhausting. But this particular ritual never fails to make me laugh.
When Monkey gets out of bed in the morning, what he leaves behind looks like this: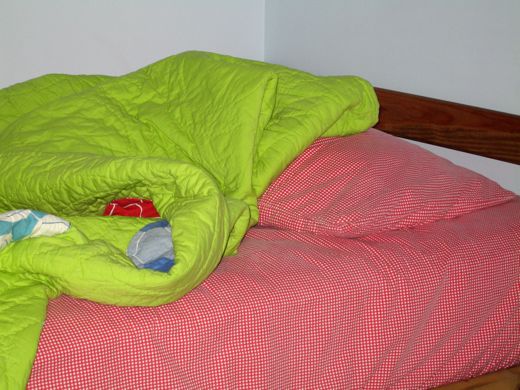 Pulling back the bedspread, however, reveals this charming surprise:
Hmmm. What is that, you ask? Well, let me hop up onto the bed and pull back the pillow to show you:
It's Puppy, of course!
Puppy requires a LOT of sleep, you see. And the light bothers his eyes. So after Monkey gets up and dressed he always slides Puppy only halfway under the pillow ("I can't put ALL OF HIM under there! He would get TOO HOT!") for his nap.
At bedtime, my job is to pull back the bedspread and act surprised to see Puppy there. "Good morning, Puppy! Time to go to bed!" I'll tell him, just before groping down underneath the bedspread for that magically disappearing sheet (which can be founded wadded up at the foot of the mattress).
Happy Love Thursday, everyone. This week I hope you know the kind of love shared through rituals (silly or not).