I have a great many awesome friends. Some of them take me out of my comfort zone, periodically, which is to say that they make me leave the house and pretend to be an adult. I hear that this is good for me.
So when my buddy Melissa sent me an email that said, "Hey, I often have to go to these media dinner things to check out restaurants, and I get to bring a guest, so do you think you'd like to come with me sometime?" I immediately replied that YES, that sounds like FREE FOOD GREAT FUN and she should count me in.
Silly me. A couple of weeks later she mailed to invite me to a dinner at Straits Restaurant. "You have to come," she wrote, "because I really like the idea of two suburban moms eating dinner with Ludacris."
Because I am a white suburban mom, I immediately had to go Google Ludacris. Oh! He was in Crash! I've seen that! I am SO HIP!
(Okay, okay—I did technically recognize that he's a rapper. And I know you are SHOCKED to find out that I'm not really a huge fan of rap, a few late college nights of belting out "No Sleep Til Brooklyn" along with the car radio notwithstanding.)
The restaurant bills itself as Asian Fusion, which sounded extremely yummy, so we got dolled up (that is to say, Melissa got dolled up, and I got dressed) and headed out.
[Digression: I actually TRIED to get dolled up, I DID. But I keep forgetting that I live in Georgia. So I got all prettied up and even tried to do something with my head of Medusa hair (thank you, ten pounds of hair products!), and PUT ON MASCARA for cryin' out loud, and then I headed out. But I stopped for gas, because I never have any gas, because paying over $4/gallon makes the baby Jesus cry and I try not to fill up until I'm running on fumes. So I stopped for gas and stood outside for a grand total of 25 seconds in the JAW-JAH HUMIDITY and my perfectly coiffed hair turned into a giant frizz ball. The end.]
We made our way to the restaurant and left Melissa's van with the valet parking. (Oh yeah. Two ladies out on the town, rockin' the minivan!) Then we went inside and the real fun began.
First of all—and I don't know if you know this—only beautiful people work in fancy restaurants. The hostess nearly sliced through us with her cheekbones, and I suddenly felt very frumpy. Er, more frumpy than usual. But then she said something about complimentary passion fruit margaritas and I forgot all about her. Tralalala! It was off to the bar for our drinks, and then Melissa started bumping into lots of people that she knew. All of whom were also young and beautiful.
About ten minutes into a conversation it turned out that I had been chatting with a former student of Otto's. THAT didn't make me feel old AT ALL.
Then Ludacris started walking around, and Melissa cracked a joke about how she'd worn her wedding ring special for the evening so that he wouldn't be too tempted by her hotness. I wondered aloud how tacky it would be to whip out my phone and take his picture, and then settled for sipping my drink while vowing that before the night was over, I would get a picture of us together.
After a little while they took us upstairs and we were all seated and then we began the Parade of Plates. Everything was served family-style and we had little appetizer plates, and the teeming horde of waitstaff had apparently been instructed to snatch away our plates and replace them with clean ones as often as possible. So I'm going to guess that for a seating of maybe thirty people we used approximately 5,000 plates for this meal.
I could tell you about the food, but really, I've been watching reruns of Top Chef and now I find things coming out of my mouth when I'm talking about food that are so pretentious I have to stop and smack myself. I'm not a food critic. There was food and some of it was better than others of it, and there were lots of flavorful sauces, and people kept coming over to talk to us while we ate (the chef, to see how we were enjoying things; the PR folks with press kits; other random people). Mostly I was transfixed by the women we were sitting with, all of whom were young and gorgeous and hilarious and extremely patient with the two dorky mommies sitting at the end of their table.
We got to sit with Tiffany, who's an editor for Daily Candy, and I hoped she was standing behind me when the hostess almost got me with her cheekbones, because if she had been, then at least I could've fallen backwards into the relative safety of Tiffany's dimples, afterwards. One of Tiffany's guests looked astonished when I said something about my eight-year-old son, and when I raised my eyebrows at her she said I didn't look nearly old enough to have an eight-year-old. So I told her that I also have a ten-year-old and then she looked positively FLABBERGASTED and said AGAIN that I look SO YOUNG, and then I put her in my pocket and took her home with me, because she's pretty.
At one point a lovely woman came over and started chatting us up, and she said her name but it was kind of loud in there, so none of us were quite sure we'd caught it, and she just hung out for a little bit and then moved along to another table. We all looked at each other and said, "Who was that?" I had heard her first name was Roberta, but I'd missed her last name. Someone else thought her last name was Shields. A third woman guessed that she was Ludacris' mom, but none of us knew for sure.
So I whipped out my iPhone and Googled her. Yep! She's Ludacris' mom, alright. I totally ate a spicy chicken lollipop while chatting with Ludacris' mama, yo. Just a regular night for me. Word.
The menu listed dessert as something called "French Kiss," which at the beginning of the meal we'd been guessing about. Would it be something sinful and decadent? Would it be a quarter teaspoon of meringue adorned with a single mint leaf? WHO KNEW! But it turned out to be a little molten chocolate cake thing (see, they really ARE serving those everywhere) topped with strawberry ice cream, sitting in a strawberry reduction. Not nearly as much tongue as the other kind of french kiss, but still very yummy. SO yummy, in fact, that when they served us ONE for our table of five people, along with five demitasse spoons, the conversation turned to how we could each get our own. Heh.
The evening was drawing to a close, and my stomach was full and my face hurt from laughing. And then Ludacris wandered over to our table and started shaking hands, and we finally managed to blurt out that we would love to get some pictures. Now, understand that I say this with the full admission that I really don't know his music or much about him at all, so I don't know what I was expecting, but—Ludacris was so sweet and cute I wanted to put him in my pocket. (Except I couldn't, because I already had that other woman in there, and I only had one pocket.) He was just very gracious and normal and adorable. And tolerant. Did I mention tolerant? Because everybody wanted a picture with him and he was clearly unruffled and happy to oblige.
When it came around to me and Melissa, she said something to him about how we needed a picture of him with "us two old mommies" and he laughed and said that we looked great. Then we got up, went and flanked him, and he put his arms around us…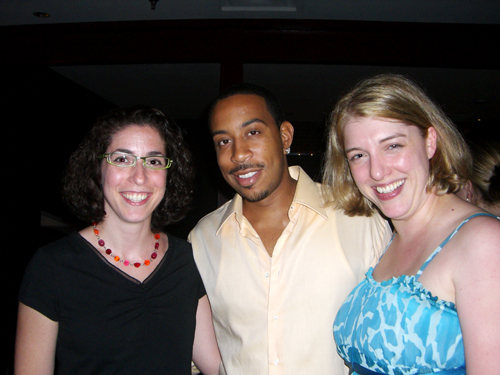 … and totally grabbed my ass.
Just kidding. But wouldn't it have been awesome if he did? I would've gone right out and bought all his records. I'm just sayin'.