It's funny, because when I wrote about our dinner out and subsequent dessert demolition in the last post, several of you commented that you wish you could've seen it. And then I realized that I really wished I had given better description to what the kids did; I titled it "dueling spoons" but that was really a misnomer, because in fact, I have rarely seen the kind of cooperation they showed when it came to scarfing down that dessert.
It was rather like watching Jack Sprat and his wife share a plate, actually. There was no squabbling. There was no "SHE GOT MORE!" or "HE'S EATING MINE!" or anything like that. Monkey—my chocolate monster—ate most of the cake. Chickadee—for whom the perfect world would be coated in vanilla ice cream with chocolate sauce—ate most of the rest. It was perfect harmony.
And then—despite my misguided titling, and incomplete description—people started asking for a picture, and Otto was reading through the comments yesterday when suddenly he threw his hands up in the air.
"You know, I HAVE a picture!" he declared. And we started laughing, because OF COURSE HE DID.
Monkey ate the cake.
Chickadee ate the ice cream.
Otto snapped a photo as their spoons continued to clatter in the now-empty bowl, trying to get up every last morsel of chocolate syrup.
And I just sat there laughing, because everyone was playing their role, and it was—in that moment—perfect.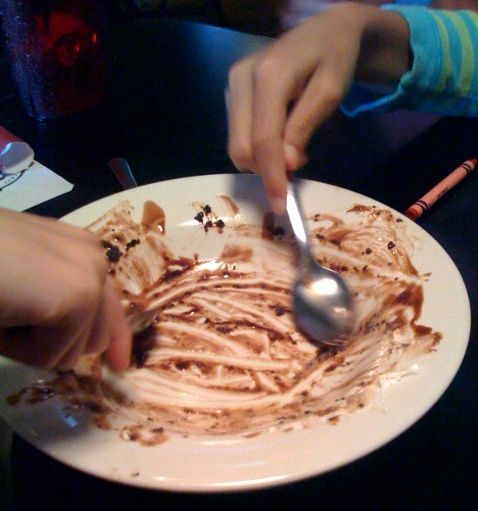 Happy Love Thursday, everyone. Sometimes love moves mountains, and sometimes love licks the platter clean (and secures photographic evidence). It's all good.