This has not been my favorite week ever.
There's lots of reasons, of course (many of them already blogged), but the main reason is that this week is sandwiched between a one-week trip and a two-week trip away, for the kids, and I really want us to make the most of our (scant) time together.
Do you know what my daughter wants? She really wants to be angry. She wants to make her DISPLEASURE WITH THE WORLD known, because she is 10 and she's stuck in a sucky situation and SEETHING OPENLY seems like the logical course of action when you are 10 and stuck in a sucky situation.
I really can't fault her for that, though I do (of course) wish she were happier. And less argumentative. And less prone to glaring at me as if I were her own personal Satan come to make her life especially difficult.
Two nights ago, Otto and I sat Chickadee down for a Serious Talk about what's been going on this week and how we're going to handle it. For the first time, Otto did most of the talking. He addressed the various behavioral issues we've been dealing with and what the consequences are going to be, moving forward. He told her how much we love her and how we're working really hard to make things better, together, and that at 10 years of age it's time to start taking responsibility for her role as a member of this family… and then he admitted that at 10 she's still supposed to just be a kid and that it's probably hard to balance those two things.
Otto then did something that made me fall in love with him all over again, and although Chickadee worked very hard to maintain her neutral and slightly bored expression, I think she was a little stunned. He told her how much he loves ME, and that when she's rude and disrespectful to me it upsets him to see her being so mean to the woman he loves.
(I wonder what that's like to hear, to find out that your mother is actually a human with feelings, and FURTHERMORE, that some people regard her as such. WILD!)
It was a good talk, overall, and Chickadee didn't get upset when she was told that she was losing her brand new bike for the rest of the week. Furthermore, Otto told her he wasn't going to put the box out with the trash, yet, because if the problems persisted, he was going to take her bike back to the store. She agreed this was fair and didn't complain.
Yesterday was a better day, though hardly the behavioral 180 for which I'd hoped. By bedtime there was some stomping and huffing and I just wanted to say goodnight and be done for the day.
Well, I put Monkey to bed and then went into Chickadee's room. I sat on the edge of her bed and we chatted a little and then I hugged and kissed her and tried to get up to leave. She flung herself at me, begging me not to leave yet, don't GOOOOOOO, Mama, Mama, MAMA I'M NOT LETTING GO!
And before I knew it, we were engaged in a full-fledged tickle and wrestling match. Here's how you handicap a 36-year-old in a struggle against a 10-year-old: You spend a lot of time getting right up into her face and opening your eyes REALLY wide and saying, "HAY-AAAAAAAAAAAAY!" I don't know why that works, but it does; it causes grumpy old mothers to dissolve in hysterical giggles, at which point you can pretty much wrestle her to the mattress without much difficulty. Once you have have her pinned, the hilarity can be magnified by saying something insightful like, "Oh! HI!" and LICKING HER.
We were so loud that Otto snuck upstairs with a camera and started taking pictures.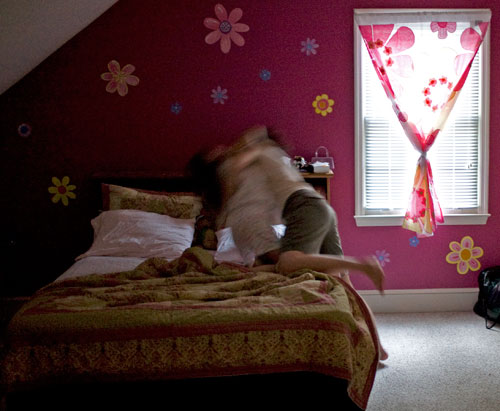 (Action shot! Lightened so you can see, but thereby making it look like a glowing spaceship is parked outside the window when really it was almost dark out!)
When we were both too exhausted from flailing and laughing to continue, I managed to get her tucked in at last. "GOODNIGHT MAMA!" she hollered. "YOU'RE MY FAVORITE!"
"No, you're MY favorite!" I responded. "Except maybe when you LICK me."
"Oh. HAY-AAAAAAAAAAAAY!" she called back, before collapsing in giggles again.
I closed the door and went back downstairs, still laughing.
I know I can't speak for her, not for sure, but I think we both really needed that.
Happy Love Thursday, everyone. Sometimes a little extra muscle (and saliva) is all you need.