Things have been a tiny bit tense around here lately; I don't suppose you've noticed. To say we've all been a little stressed out would not be inaccurate. And while I can't speak for the kids, obviously, I know that I personally feel a lot more angst when my children are having trouble getting over a hump and I can't seem to help them.
Both of them are struggling right now with different things. I am left feeling like what I do is never enough and that if only I could find THAT THING that would fix it all, we could all heave a sigh of relief. Unfortunately, THAT THING is completely beyond my grasp; whether because it's imaginary or because I'm a moron, well… sometimes it's hard to know. Nevertheless, some days life feels more like a struggle than a journey. And some days I wonder if hoping for change is foolhardy.
Here's the thing about kids, though: They ALWAYS change. I couldn't stop them if I tried. They have their own unfolding to do. I can try to influence the process, of course, but it's not up to me. On good days, I can find comfort in that. On great days, maybe even strength.
We got the bicycles out yesterday, because here we are: Monkey is coming up on 8-and-a-half and he still cannot ride a bike. The difficulty started with his sensory issues (this is, after all, the same child who can leap onto the furniture, smash his nose into knee while doing so, and then angrily insist that "MY NOSE JUST STARTED HURTING!" and refuse to believe that anything—much less part of his own body—made contact with him), but at this point I'm willing to credit garden-variety fear with his inability to master it. It has become a bogeyman, that bike, and even the suggestion of working on riding must be done carefully.
Monkey can manage about fifteen minutes of work before his frustration prevents him from continuing. By the time we reached his breaking point, I had promised him a new bike as a reward for for mastering it. Heck, I'd promised Chickadee a new bike for helping him master it! (Both of their bikes are second-hand and too small, anyway, but still. Bribery much?) When he'd had enough, I praised him for trying (and his sister for helping).
I was frustrated. He was frustrated. Chickadee was moaning about how we'll NEVER EVER get to go on a family ride and it's NO FAIR.
Later on I went outside to water our new strawberry plants. The children are completely mesmerized—what arrived in a big box as twisted twigs have become real, live, growing plants, and they just can't seem to wrap their little brains around how THAT became THESE.
"Mama," asked Monkey, as he studied the two pots carefully, "How come these ones are growing so big, and then these ones are little? And how come those ones there haven't grown at all?"
"I dunno, sweetie. They all grow when they're supposed to. Not everything grows at the same rate."
"But some of them are DEAD," he said, mournfully.
"I don't think so. I think they're just not ready yet."
"Buddy!" said Chickadee, deep in observation on the side of one of the pots, "No they're not! Look over here!" And together we bent to follow her pointing finger—one of the holes sporting a "dead" plant had the tiniest glimmer of green right in its center.
Monkey was delighted, and for a little while, anyway, I had that zen sort of "all things in good time" calmness that I wish was a more permanent part of me.
I'll just keep watering, and encouraging, and chasing the squirrels the away. The rest isn't up to me, anyway.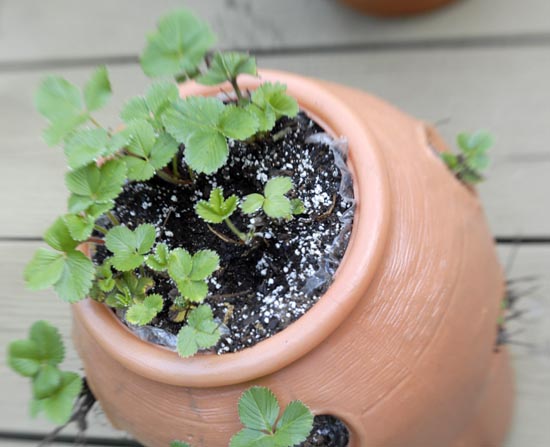 Happy Love Thursday, everyone.