I may have mentioned that I accompanied my daughter's class on a field trip on Monday. There's really no way to describe heading into the woods with twenty-four fourth graders, some of whom believe that nature ends at the edge of the playground.
Chickadee is turning ten soon, and I keep asking her, "So, when do I become an embarrassment? When will the very idea of me daring to show my face within a mile radius strike fear into your heart?" Make no mistake—I've already started becoming stupid. Very, very stupid. And demanding. [Insert huffy sigh here.] But so far, she laughs at the idea of my mere presence being horrifying.
She loves to have me come into her class. She's proud to have me along, while the other kids cluster around and ask to see my nails, my phone, my shoes; they ripple with shy happiness when I remember their names; I am a rare and exotic life form in the classrom, and it never ceases to amaze me. Still, my days are numbered.
I have this area, and this school, to thank for my extended tenure in the "not embarrassing" camp, I think. Had we stayed where we used to live, I would already be persona non grata amongst a sea of pampered kids. Here, the point is driven home each and every day—some parents never show up. An adult who pays attention is a hot commodity. It's a lesson for me as much as for them, because I am learning to appreciate the little moments and take time to really see little joys.
Chickadee and I have already entered rough waters, and there are tougher times ahead. She's growing away from me, even now. As she should. But I hope she will always have room in her heart and her schedule to take my hand as our matched footsteps crunch the leaves beneath our feet.
Time is slower between the trees. Not slow enough to stop her from dropping my hand and darting ahead more and more often, but I'll take it.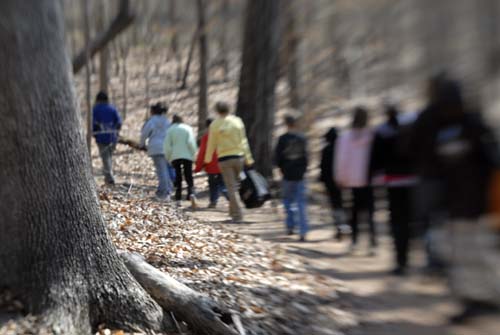 Happy
Love Thursday
, everyone.