I have a pretty complicated relationship with food, for a non-eating-disordered normal-weight female. I always used to joke that I was a fat girl trapped in a skinny body. Once I became post-menopausal at the ripe old age of 33, I had to stop saying that—my metabolism no longer allows for the wanton consumption it once did. (Alas.) But there's no denying that I see food as way more than sustenance.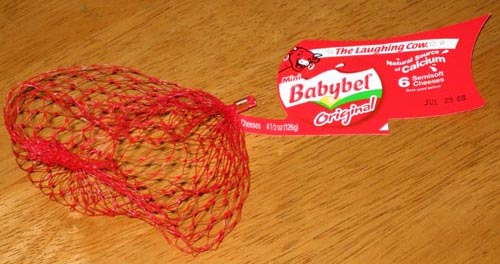 What do you see in this picture?
Here's what I see:
I see the Holy Grail of kid snackdom. My children probably dream of a world that looks like the McDonald's Play Place, but instead of balls in the ball pit, it's filled with Babybel mini cheese wheels.
I put the last two of these into their lunches for snack, this morning, and there was ACTUAL CHEERING at the breakfast table when they saw me doing it.
Now, I hardly ever buy these. They're insanely expensive… something like $3.50 for 6 little single-serving cheeses, when I could buy an entire BLOCK of cheese (three times as much) for $2. And you know me and the thrifty thing. But when they're on special, I get them—even though they're still too expensive—because the kids go positively NUTS when I do. And that's reason enough for me. It makes them happy, and that makes me happy.
And while I'm thinking on it—very little makes me happier than when I cook something for my family and they love it. Food is love, man. Food is love. (I know, I totally invented that, right? Also: Water is wet. You're welcome.)
I still have some unhealthy habits around food that I need to break, for sure. I eat too much. I eat out of boredom rather than out of hunger. Stuff like that. But the more I realize that food is love, the easier it is to keep striving for healthier options to feed us, while at the same time the easier it is to make peace with the occasional splurges like Babybels or Girl Scout cookies. (Stop looking at me like that. It's a good cause!) (Thin mints are always a good cause. Mmmmm… thin mints.)
This Love Thursday, I wish you all a little bit of the kind of love you can tuck into a child's lunch bag.