Once upon a time there was a small boy who became overly attached to his stuffed puppy. The puppy's name was, of course, Puppy. And everything the boy did, he did with his puppy. And any time you suggested a game or a book or even a TV show, the boy had to check with Puppy, first, to make sure that that was okay. At bedtime, his mother had to kiss him AND Puppy goodnight, or he couldn't sleep. And if Puppy was missing at bedtime? Well, let's just say you'd better find him. STAT.
This was extremely charming when the boy was two or three years old, but was becoming tiresome by age six or so. By the time the boy was seven, his evil mother was working very hard to suggest horrible things like "Leaving Puppy at home" and "Thinking for yourself" and "MAKE YOUR DAMN DOG STOP LOOKING AT ME."
And then the boy and his puppy moved, and the mother decided it was time for some changes.
In the new house, the boy had a new room! That was very exciting. And after some deliberating it was decided that the room would be decorated with airplanes. Had the boy ever expressed a special affinity for airplanes? Well, no, he hadn't. But there were airplane wallies and he liked them and they seemed like something he wouldn't outgrow immediately. So. Fine. Excellent. Besides, Puppy concurred. Airplanes it would be!
Ever so slowly, Puppy started staying in the boy's bed most of the time. Which meant that he was spending a lot of time in that airplane room, you know. And Puppy was being VERY well-behaved, in spite of his long hours alone. He was quiet and didn't scratch or bark, and he hardly ever messed on the carpet.
Over time, though, Puppy began to really love those airplanes. Why, he started dreaming about taking to the skies, himself. Or so the boy claimed.
Both the boy and Puppy had really been quite good, all things considered. So the evil mother had a brief glimmer of kindness and decided to commission a painting to celebrate all of the recent changes—the new plane room, Puppy's newfound independence, and just the fact that the boy is pretty darn cute.
Enter one painter extraordinaire. The mother knew she needed someone with vision. Someone with brilliance. Someone who is really, really good at drawing cartoon dogs.
At long last, the day arrived for the unveiling. Behold, Puppy Takes to the Sky: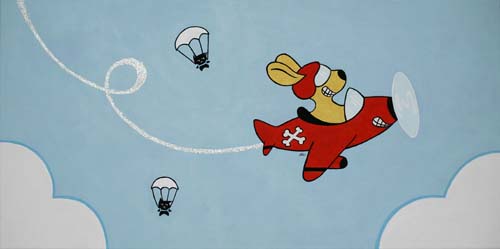 Puppy's impressive flight is currently taking place between two closets, at a vantage point that allows a small boy relaxing on his bed to behold the flight pattern in its full glory. Said child has expressed nothing but elation over this masterpiece, and has said—and I quote—"Oh! Oh! Oh! Please tell Miss Tammy I said THANK YOU THANK YOU THANK YOU SO MUCH!"
As for Puppy? Well, he had an opinion, as well.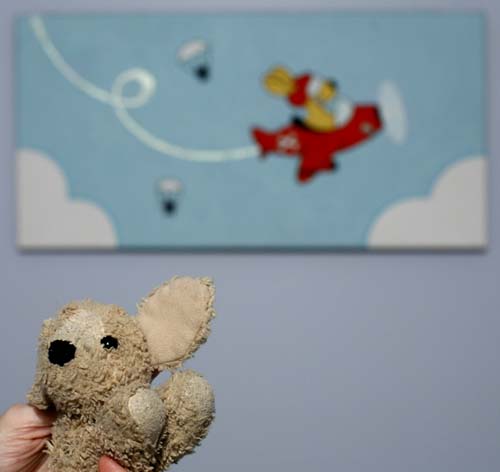 He gave it two paws up.
(And then he asked why he doesn't have any thumbs. SOME PEOPLE. Er, SOME DOGS.)