It's the last day of school (finally!), and the children are utterly crushed.
As evidenced by the skipping, prancing, whooping and hollering that accompanied the last trip to the bus stop.
I asked them if they were sad to be having their last day of school here, and they never stopped running around in circles long enough to answer. Because today is exciting; they still have business cards to give out (Otto made them business cards with their new address info) and gifts to bestow and THINGS to DO. They haven't stopped moving long enough to be sad, yet.
Come to think of it… neither have I.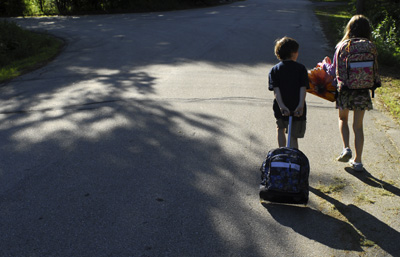 (photo courtesy of Otto)