Well. It's clear from that last post that you are all dying to see what a complete dork I was as a child. You'd think that the various and myriad demonstrations here of my dorkitude as an adult would be enough, but no. You people always want more.
And I always give it, because I care. And because it's easier to sit down at the scanner and then resize pictures than it is to write an actual entry when all I have to report is "my house is still for sale and no one even came to look at it this weekend, possibly because it is snowing in the middle of April."
I'd also like to point out that I have posted incriminating photos of myself before purely for your enjoyment. Just for the record.
(Click thumbnails below to biggify, if the horror isn't plain enough in tiny size.)
I was thrilled to be starting "big kid school" in kindergarten, as evidenced by this lovely photo, here. Am I wearing a breastplate underneath my fashionable shirt? Did I cut my own hair? The world may never know. It was all part of my mysterious charm.
As was being tormented on the bus by a group of older girls who insisted I was a boy, much to my horror.
The teasing in kindergarten led to a full-throttle campaign to get my mother to let me grow my hair out. Here we can see that I've started, with a lovely bedheaded result. At least I'm wearing just one color (perhaps all of my psychedelic shirts were in the wash, alas).
You know how now when kids bring home the picture day stuff, it says "wear a solid color" in the rules? That's because of me, I'm pretty sure.
This is the picture Chickadee identified as looking like her, and it does, strongly, in pose and mannerism. Thankfully the "cut everything from the crown forward short and call it bangs even though it's half your head" hairstyle which was so popular in the 70s has gone out of fashion, along with that shirt.
Check out those teeth. It soon got worse…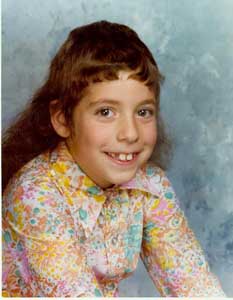 … the next year. What was cute, before, was now undeniable buckteeth. My posture and lack of frizz control didn't really help matters, either. Notice how I don't seem quite so gleeful this picture, possibly because my collar is cutting off my circulation.
(But have you been noticing those weird little in-the-smile-line dimples? I still have those, and so does Chickadee.)
I think I look a little stoned in my 4th grade picture, but I suppose they just snapped it too close to me blinking. Again we have the stunning gorilla posture accentuated by the beauty of polyester, and—this time—an even better view of the Horrible Hair. It's not even so much the short-in-front part that horrifies me as much as that I was clearly trying to brush my curls straight and then walking around like an overgrown brillo pad. Pretty!
I haven't worn the color yellow on my body probably since this picture was taken in 1981. It makes me look like I'm dying of jaundice, and it hurts my eyes, besides. In this picture, however, it's something of a welcome respite from the sadness which is my hair. I wore these little puppydog ponytails for about a year, while growing out the front, and thought I was pretty cool. Then again, I thought my banana-yellow turtleneck was pretty stylin', too.
[You know, this progression of pictures may serve as explanation of why I pretty much have Chickadee keep her hair all one length at all times.]
And as an extra! special! bonus!, I made just one more picture to share. You may perhaps remember how last summer I ran into an old classmate at BlogHer, and I said then and continue to say that she looks exactly the same now as she did back when I'd last seen her 20-something years ago. Say what she might, Lady M cannot deny photographic evidence.
So, um, yeah. Now you understand why I hate having my picture taken; I was scarred by these photos, I tell you. Of course, I should LOVE having my picture taken, now, because at least I know my hair looks okay and I'm wearing natural fibers….