I am not a Valentine's Day person. I want to know that you love me, but not because Hallmark told you to say so. And while I do enjoy a lovely bunch of flowers, I like them best for no reason in particular.
So Otto and I had agreed not to do anything specifically for Valentine's. I was happy to see him this past weekend, and sorry to see him leave on Saturday morning. But when I went up to bed on Satuday night and pulled back the covers, something went clunk.
Nestled between my duvet and the top sheet was a heart-shaped tin of chocolates and a card. The chocolates, well—that's a no-brainer. Cheesy though such a gift may be, I've yet to meet the chocolate I didn't like. The tin now sits on my nightstand with the card propped up behind it, so that I can look at it each night while I'm having my hooray-the-kids-are-in-bed piece of candy.
The card sports a silly joke and a simple note from my beloved: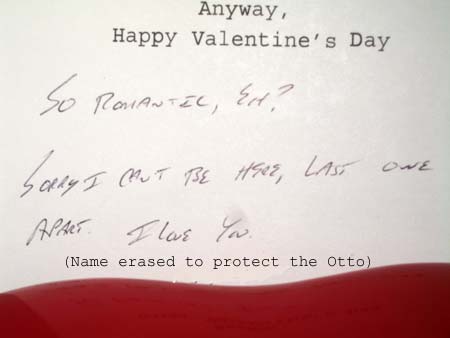 It's hard to be sad about being apart when looking forward to all of the being together yet to come.
Happy Love Thursday, everyone. May you have someone who knows just what to say to make you smile, even from afar.