Because I was raised Jewish and then fell into a rather extreme Christian religion in college, when I regained my senses I was (understandly, I think) a bit wary of committing myself to another church. It wasn't that I didn't still consider myself a person of faith; it was that I was beginning to realize that first I needed to know what I believed, apart from what a group of people might tell me to believe.
My (ex) husband (is) was Methodist. I went to church with him. Sometimes. The Methodists seemed nice enough.
The years went by and challenges came with them. I couldn't get pregnant. We got pregnant and I miscarried. Then I couldn't get pregnant again. I spent a lot of time being very angry.
I talked to God a lot. No; that's not right. I talked at God a lot. I don't think He minded—after all, He's a pretty patient guy, I think—but I certainly wasn't listening. I was asking for what I wanted. I was disguising my bitching as requests for guidance, when really, I wanted a damn baby and I wanted one NOW.
Along came Chickadee. It had been a rough pregnancy and a neverending delivery and finally I was a mom. This baby was everything I wanted and nothing like what I expected. She was baptized in the church we attended and I stood there, holding her in her little white dress and her tiny tights with the ruffles on the tush, and prayed that she wouldn't start screaming. (She slept through most of it.)
I discovered I was pregnant with Monkey on Chickadee's first birthday. We were elated. I thanked God for our good fortune. We were at church one Sunday morning and when I took baby Chickadee into the back room because she was being noisy, I felt a gush. A quick trip to the bathroom had me scuttling back into the sanctuary to whisper to my husband that I was bleeding and we needed to get to the hospital. Later, when ultrasound confirmed an active and very much alive Monkey next to a small hemorrhage, I whined to God about bedrest with a toddler and a job and what exactly was He trying to pull, here?
Monkey came into the world wailing and didn't stop for about four months. Between his colic and our relocation, he wasn't baptized in the same church where his sister had been; we moved and found a new church and decided to wait a bit.
And then a funny thing happened.
I really liked the new church. I liked the pastor, and I liked the people, and in the midst of adjusting to life with a baby and a toddler, I liked the calmness I felt when I was there.
Time passed, and Monkey was nearing his first birthday. We decided to have him baptized. In our discussion with the pastor, my ex arranged to transfer his membership to this church. I had never joined the previous church, but was ready to join this one. Only it turns out that you have to have been baptized in order to join. So the pastor suggested that I be baptized alongside my son.
Monkey and I were baptized together. (He was definitely the cuter of the two of us with holy water dripping down the forehead.) I suspect he spent most of the ceremony trying to figure out how to eat his bow tie. I spent most of it reflecting on the last few years, and marvelling at all God had given me despite my bratty attitude. I silently vowed to trust Him more, and complain less.
The family who sponsored our baptism/joining gave us a small box after the service. "Just a little token for Monkey," the wife told me. Inside, I found this: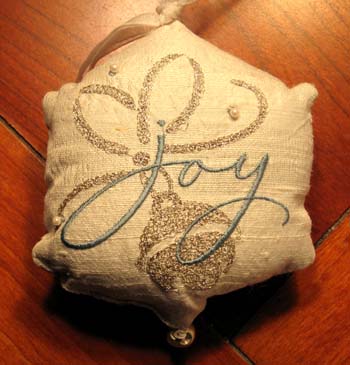 I suppose it's meant to be a Christmas ornament (the baptism was in early December), but I hung it up in Monkey's room, and that's where it's been ever since. The fabric loop is just long enough to string it around his thermostat.
I see it so often that sometimes I don't even notice it. But it's been a rough few weeks around here, and tonight after I tucked Monkey into bed, it caught my eye. And I remembered that I hung it up thinking how perfect it was; that if I had to choose just one word to describe my child, it would be joy.
I remembered that God puts up with me, in part, to teach me how to put up with them.
I remembered that I longed for these children, and I never prayed for them to be perfect or easy, but for them to know how much they are loved.
I remembered that through these children, I found my way to my faith.
I remembered that no matter what they do or how hard this feels, they are still my joy. And I may not be able to fix their hurts, I may not be able to keep their elbows off the table and their hands to themselves and their misbehaving butts out of the principal's office, but I can remember my joy in them in spite of those things.
Happy Love Thursday, everyone. Don't let the daily grind make you forget. Love may not conquer all, but it sure makes it a lot more bearable.