Today the children and I stayed in the house and watched a lot of television. Eventually we took a break to drive very slowly around all of the trees which had grown weary of the ice and sagged downward, laying across the road. We're so sorry, the trees seemed to say. We're just tired, and stretching out, and we'll stand up in a minute. Pardon us!
There was no pardoning them, however, as the Department of Public Works was hacking them up when we returned from buying bread and milk and baby carrots. I'd wanted to take some pictures, but I guess it wasn't meant to be.
I thought that nothing could be worse than an (almost) entire day of Pokemon and Full House DVDs, but I was wrong. Chickadee had brought home her latest prized possessions from her dad's house.
And so it was, on this icy day, that I was introduced to the Littlest Pet Shop.
No, there's nothing wrong with them, really. I mean, nothing I can definitively put my finger on. They do not wear leather bodices or fuck-me pumps. They don't spout phrases about how math is hard. They are not violent or otherwise espousing questionable values. They're just… well….
They creep me out. They just DO. They're… so CUTE. And yet, not. Some of them really are sort of cute. But most of them tip the scales into the grotesque, where their eyes are just a little too big and the bodies are just a little too small and some of the accessories are just WEIRD.
You can get a duck that comes with a shower cap. Because ducks, they don't like to mess up their hair. But don't worry! If she DOES mess up her hair? There's another duck with a headful of pink curlers.
Also? Most of them are bobbleheads. Teeny, tiny, freaky bobbleheads.
Chickadee kept bringing them over to my desk, one by one, setting them down directly in front of me, and then giving just the barest little *flick* with her finger to set their ginormous noggins bobbing.
It took every ounce of my will not to scream.
Do you know these critters? Let me explain.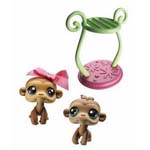 Awwwww, wookit da wittle monkeys. Aren't they cute? There's a girl, see, and you can tell because she has a big-ass bow as big as her head. And then there's the boy, see, because he has, um, well, no bow. And they have that there stand thing to, um, stand on. Because that's what monkeys like to do. They stand. And stare are you with their huge orphan eyes. Without blinking. While the steady wobble of their heads drives you slowly insane. And isn't that what you'd always hoped for, when it comes to a pet?
And here we have a cat and a fish. The cat is actually slightly less creepy and weird than most of the other pets. The fish, on the other hand… well, I like to call this fish Nemo On A Stick. Chickadee does not appreciate this, by the way. Being as how little Nemo there doesn't have a separate head from his body, he can't quite bobble like the others, right? Wrong. He bobbles on his bowl-stick. Which is sort of dirty, in my opinion.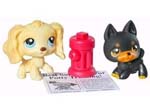 Who doesn't love puppies? Communists, that's who. Look at these little guys. So adorable. And look! They come with newspaper and a fire hydrant. Because the dominant feature of dogs is their need to pee on stereotypical objects. I was actually surprised that this set doesn't also come with patented Littlest Dog Poop. That bobbles.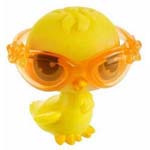 I think this is supposed to be a chick, as in, a baby chicken. Check out the safety goggles! I think he/she may be on his way to the Littlest Welding Shop. But my Chickadee assures me that this is a chickadee, wearing glasses, just like her. I tried to tell her that her head is much smaller and less disturbing, but she didn't want to hear it. Maybe because her glasses are not neon orange? I'm not sure. At least the weight of the spectacles minimizes the range of motion of its head.
First of all, I'm extremely skeptical of what sort of foodstuff is in that dish. The package claims carrots, but I'm not buying it. Second, this is the most sinister-looking turtle I've ever seen, somehow, despite the fact that I fully expect it to start farting out cartoon hearts at any moment. And that is just WRONG.
I cannot wait for these tiny abominations to go back from whence they came, lest they bobble their way into my ear canals while I'm sleeping and nibble on my cerebral cortex.