I think there are some people who come into our lives to test us (sometimes to the very limits of our endurance), and some people who come into our lives to love us in a way that humbles us as nothing else can. Both of these are important lessons.
Sometimes, you get both in the same person. (Most often in our offspring. Heh.)
In the spirit of the new Kind Blog, I've been thinking a lot about who people are to me in my life, and who I want to be to others.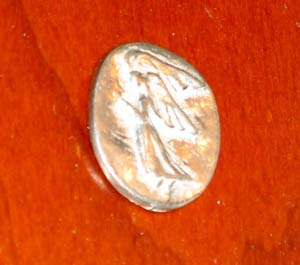 Kira gave me this little angel coin in August of 2005, when we descended upon Joshilyn's house for a few days. She brought it to me late one night as we were getting ready for bed, and told me the story behind it, and pressed it into my palm with the promise that things would get better.
I was, at that time, deeply in the throes of uncertainty and lack of hope, while Kira fairly glowed with promise and calm (whatever it is that Clay does to that woman, it is potent; this was before they were even engaged, so I imagine she emanates a blinding white aura now that they've been married coming up on a year). If she had offered me eye of newt and told me it would help, I would've taken it.
The coin itself is both lighter than it looks and surprisingly substantive. It's not quite a true round. I have plucked it from amongst the change in my wallet and had it in my hand every day for at least a few seconds since the day Kira gave it to me. While the angel doesn't do much for me, visually, it is very soothing to run my thumb along the ridges that compose her, then along the smooth back of the coin.
Things did get better, of course. The angels in my life waited patiently while I figured it out. Nowadays, when I run my thumb along the angel coin, I wonder who I will pass it on to next. I think my time with it is almost done.
Happy Love Thursday, everyone.