Lookie here, it's another blog book tour, except this one is all INTERACTIVE and stuff. I was sent a copy of Georgeanne Brennan and Frankie Frankeny's Green Eggs and Ham Cookbook to check out, and I fully intended to read it cover to cover, try a multitude of the recipes, and bust into this review thing ready to assure you that I'd gone to the ends of the… errrr… pages… to really assess this thing right.
I forgot that life likes to laugh at me when I intend to do something that organized. Whoops. But! I still feel qualified to review the book, because let's be honest: If you're the sort of person who's intrigued by a book of recipes based upon Dr. Seuss stories, what are the chances of YOU being any less frazzled than ME? Slim to none, says I.
Just consider this your Real Mom review. I even put my sweatpants on. That's dedication!
So. The premise is simple—a family-friendly cookbook based on the tales and characters of Dr. Seuss. There really are green eggs and green ham to be had, if that's what you want. There are Seussian illustrations interspersed with actual food photos, and the recipes range from the obvious (Silly Sammy Slick's Sodas are… juice and club soda) to the more complex (Remarkable Foon's Sizzling Hot Pebbles is a traditional red beans and rice recipe, ham hocks and all).
But here's what I did. I handed the book over to my 8-year-old (she who had just had her teeth pulled) and told her to pick a recipe for dinner. Her eyes lit right up. "Pick something SOFT," I reminded her. She nodded and bent to her task. Five minutes later she came to me with the book cracked to the recipe for Hoop-Soup-Snoop Group Potato Soup. Perfect! I magnanimously offered to whip up a batch of Moose Juice after dinner, as well, if she would assist me in shopping for and preparing the soup. The deal was accepted, and she made our shopping list and we headed out to the store.
The soup recipe was perfection. For one thing, it required very little prep (I peeled and boiled potatoes, chopped some onion, and threw some bacon in the oven). For another, it ended up being flavorful enough that I really enjoyed it, but was bland enough in the kids' eyes that they didn't complain. And most importantly, the soup calls for toppings of both cheese and bacon. Mmmmm… bacon. Isn't everything better with cheese and bacon, really?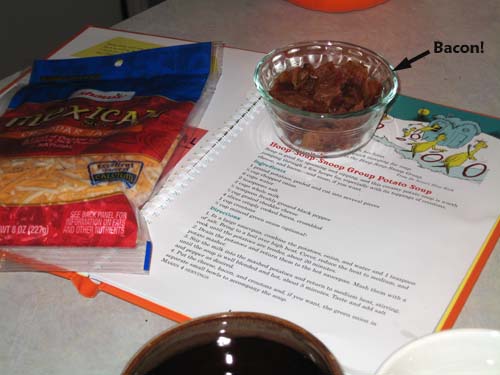 Here's the cookbook while I was mid-prep. The bacon is crumbled and ready, and I opted to use a cheddar/jack blend because, um, I'm a rebel that way. And that's what I had in my fridge.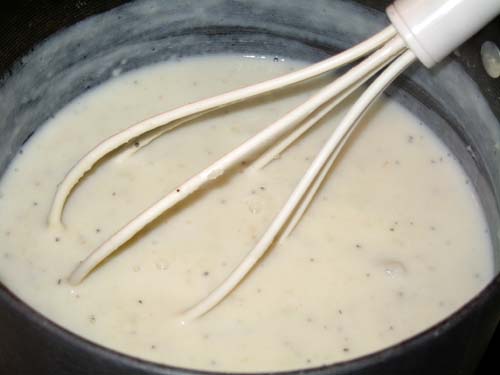 Here's the soup on the stove. Oh, getting to that point was complicated. Let me see if I can remember it all. Let's see. Boil potatoes and onions. Drain. Mash. Add milk. Stir. Season. Yeah, it was a labor of love, I tell you.
And with one child running around flapping his arms and the other sitting at the table doing everything but her homework, and me coming down with a cold, this recipe was EXACTLY the right level of difficulty for me, tonight.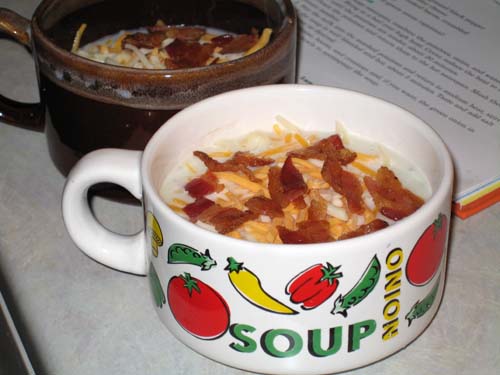 Fully garnished soup, ready to eat. If you don't think that looks delicious, you are dead to me. It's CHEESE! With BACON! And also some soup, I think.
Even my son—who is the Mikey of his generation, and generally dislikes soup on general principle—declared with surprise, "This is GOOD, Mama!" All three of us really enjoyed it. The recipe makes four servings and as I scraped the last serving from the pot into a storage container, thinking about how good it will taste for lunch tomorrow, my daughter piped up with "There's just enough left over for you to send me a thermos of it in my lunch tomorrow! Yay!"
[I considered all the ways in which I could "forget" to honor her request, but, well, she did just have some big holes made in her jaw. I guess she wins. Hmph.]
I can see this soup becoming one of our staples. Heck, other than lifting the pot to drain the potatoes? The kids could more or less make this themselves (with proper supervision, of course).
After the kids were showered and into their pajamas, we whipped up some Moose Juice to have as a bedtime snack. I'll confess to having chosen this drink because it calls for orange juice and we can all use a little extra vitamin C right now. It also uses orange sherbet, vanilla extract, and fresh banana. Oh, and whipped cream. (General rule of thumb: If it's a food that cannot be enhanced with bacon, it needs whipped cream.) The book's recipe claims to make one serving, but it looked like an awfully large glass, to me, so I doubled the recipe for the three of us. Time from plugging in the blender to smooth orange beverage enjoyment was roughly 60 seconds.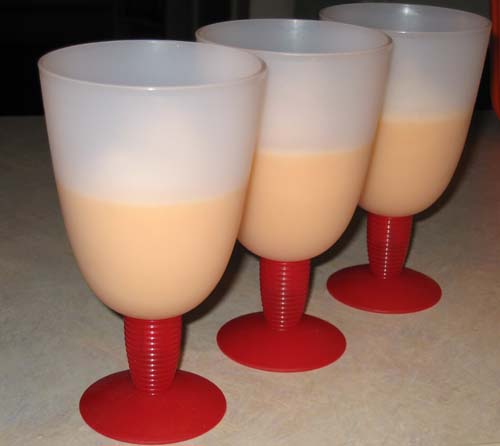 I should've put something else into this photo for scale, because those Tupperware goblets are GIGANTIC. Half-full was more than enough. Besides, it left plenty of room for whipped cream. Just sayin'.
My son has already pointed out that because his sister got to pick, tonight, he gets to choose the next "Dr. Seuss meal." He'll get no argument from me.
This is, at its core, a fun book. It's perfect for cooking for and with your kids. It's not a be-all and end-all of recipes, and it's not intended to be. For what it is—a smallish cookbook of kid-friendly meals with familiar tie-ins—it's lovely. I could see giving this as a gift to anyone looking to get their kids into the kitchen with them. Or to any Dr. Seuss enthusiast. Or anyone who likes bacon.
The Green Eggs and Ham Cookbook gets three thumbs up from us. I literally had to pry it out of the children's hands when it was time for them to go to bed. Needless to say, that's never happened with The Joy of Cooking. Go figure.